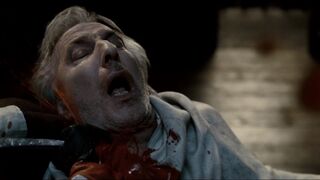 Alan Rickman (1946 - 2016)
"I do take my work seriously and the way to do that is not to take yourself too seriously".
Deaths in Film
Edit
Die Hard (1988) [Hans Gruber]: Falls to his death from the skyscraper at the end of a struggle with Bruce Willis, on top of having been shot in the stomach by Bruce. (Thanks to Emily, Stephen, Debi, Neil, Nilescu, Ryan, Tommy, and Harry)
An Awfully Big Adventure (1995) [P.L. O'Hara]: Accidentally drowned when he slips on a wet footbridge in the Mersey River. (Thanks to April)
Galaxy Quest (1999) [Alexander Dane]: Shot with a ray-gun by Robin Sachs; he is later brought back to life when Tim Allen activates The Omega 13 device to turn back time and prevent his death. (Thanks to April and Tommy)
A Fish Tale (Hjaelp, jeg er en fisk; Help, I'm a Fish) (2000; animated) [Joe]: Drowned after he changes from a fish into human form while underwater. (Thanks to ND)
CBGB (2013) [Hilly Krystal]: Portraying a real life character, he dies from complications of lung cancer. The film closes with an image of the real Hilly and the legend "Hilly Kristal: September 23, 1931 – August 28, 2007".
TV Deaths
Edit
Romeo and Juliet (1978 TV) [Tybalt]: Stabbed/impaled after a sword fight by Patrick Ryecart. (Thanks to Debi)
Something the Lord Made (2004 TV) [Dr. Alfred Blalock]: Dies (off-screen) of natural causes in his sleep; we learn of his death when Kyra Sedgwick informs Mos Def over the telephone. (Thanks to Stephen)
Ad blocker interference detected!
Wikia is a free-to-use site that makes money from advertising. We have a modified experience for viewers using ad blockers

Wikia is not accessible if you've made further modifications. Remove the custom ad blocker rule(s) and the page will load as expected.