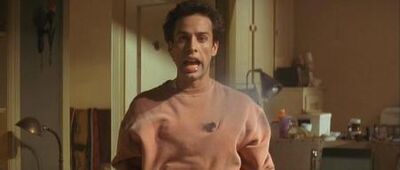 Alexis Arquette (1969 - 2016)
(Note: Alexis Arquette was transgender, having undergone gender-reassignment surgery in 2007. Because all of her 'death' scenes that I know of were done when she still identified as male and played male characters, this page includes the category tags for both "Actors" and "Actresses.")
Film Deaths
Edit
Sometimes They Come Back...Again (1996) [Tony Reno]: Electrocuted (along with Bojesse Christopher and Glen Beaudin) when a live wire falls into a pool of water while they're performing an occult ceremony in a basement; he returns to life with supernatural powers, but dies once again (along with Bojesse and Glen) when Michael Gross performs a ritual to send them back to Hell as they're preparing to sacrifice Hilary Swank.
Love Kills (1999) [James]: Poisoned when he drinks some drugged juice that Loretta Devine had intended for Lesley Ann Warren; he staggers out and falls into the swimming pool, hitting his head on the edge, but it's later confirmed that he died from the drug, rather than the impact or drowning.
Tomorrow by Midnight (Midnight 5) (2001) [Sidney]: Shot in the face by William Vogt.
TV Deaths
Edit
Noteworthy Connections
Edit