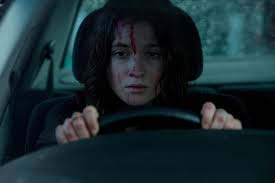 Alice Englert (1994 - )
Film Deaths
Edit
In Fear (2013) [Lucy]: Possibly killed (off-screen) in a possible car crash after she tries to run over Allen Leech. (It's possible she died, being that Allen tells a story earlier in the film of how someone stood in the middle of the road to see if a car would hit him, only to have the driver swerve out of the way just in time and kill themself in the process, but considering Alice's deliberate intention to hit him, it's more likely that she survived.) 
TV Deaths
Edit
Jonathan Strange & Mr Norrell: Chapter One - The Friends of English Magic (2015) [Lady Emma Pole]: Dies of an illness (offscreen). She is later brought back to life by Marc Warren's magical powers at Eddie Marsan's request.
Ad blocker interference detected!
Wikia is a free-to-use site that makes money from advertising. We have a modified experience for viewers using ad blockers

Wikia is not accessible if you've made further modifications. Remove the custom ad blocker rule(s) and the page will load as expected.