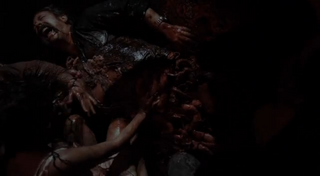 Andy Nyman (1966 - )
Producer
Deaths in Film
Edit
Played (2006) [Danny]: Shot to death by Mick Rossi.
Severance (2006) [Gordon]: After having his leg cut off in a bear trap, he dies (off-screen) of shock after Levente Törköly carries him into the basement. His body is shown when Laura Harris and Babou Ceesay find him in one of the prison cells in the basement. (There is an alternative scene where he is gutted by one of the military mental patients.)
Kick-Ass 2 (2013) [The Tumor]: Presumably dies after Chloë Grace Moretz castrates him off camera. (Although he is still alive as the scene ends, it's clear she's about to kill him.)
The ABCs of Death 2 (2014) [Tenant, segment "A is for Amateur"]: Shot through the neck after Eric Jacobus's corpse is dragged from the ventilation shaft by the caretaker, accidentally setting off his gun upon hitting the floor.
Deaths in Television
Edit
Dead Set (2008; Mini-series) [Patrick]: Disembowelled and decapitated by the zombies after he is trapped in the camera runs around the Big Brother house.
Ad blocker interference detected!
Wikia is a free-to-use site that makes money from advertising. We have a modified experience for viewers using ad blockers

Wikia is not accessible if you've made further modifications. Remove the custom ad blocker rule(s) and the page will load as expected.