Angela Mao (1950 -)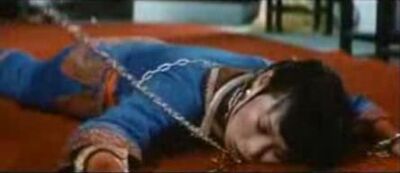 a.k.a. Mao Ying or Mao Fu-ching
Film Deaths
Edit
Enter the Dragon (Operation Dragon) (1973) [Su Lin]: Commits suicide by stabbing herself in the stomach with a shard of glass, rather than be raped by Robert Wall .
The Fate of Lee Khan (Ying chen ge zhi Fengbo) (1973) [Hai Mu-tan]: I don't know the details of her death, but this film was mentioned in Angela Mao's fan site's list of movies where she dies.
The Association (Yan ku shen tan; Operation Ironman) (1975) [Fang Chu/Lui Ying]: Again, I Don't know the details of her death, but I got the information from the above link.
A Queen's Ransom (E tan qun ying hui; International Assassins) (1976) [Queen of Cambodia]: details unknown. see above entry.
Duels in the Desert (Nu ma fei sha; The Proud Horse in the Flying Sand) (1977) [characters name unavailable]: details unknown. see above entry.
Battle of Shaolin (Bo ming; Bandits, Prostitutes, and Silver; The Damned) (1978) [Bandit Queen]: Throat slashed with a razor-sharp "Flying Guillotine" ring that Lo Lieh loops around her neck during a martial arts battle; she continues to fight on for some time before finally bleeding to death.
Ad blocker interference detected!
Wikia is a free-to-use site that makes money from advertising. We have a modified experience for viewers using ad blockers

Wikia is not accessible if you've made further modifications. Remove the custom ad blocker rule(s) and the page will load as expected.