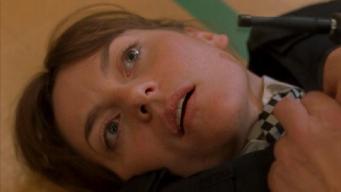 Anna Wilson-Jones (1970 - )
Deaths in Film
Edit
None listed.
Deaths in Television
Edit
Jonathan Creek: The Coonskin Cap (2003) [Sergeant Heather Davey]: Suffocated by an inflatable lining that Terence Hillyer had rigged in her bulletproof vest, constricting her chest in the manner of a blood-pressure cuff. Her body is shown afterwards when Terence and the other police break down the door and find her seemingly strangled in an empty room.
Misfits: Episode 2.6 (2010) [Laura]: Killed in her hotel room when Jordan Metcalfe uses his power to clog her arteries with cheese she had eaten earlier. Her death is undone later when Nathan Stewart-Jarrett uses his power to turn back time and prevent Jordan from discovering his power.
Ad blocker interference detected!
Wikia is a free-to-use site that makes money from advertising. We have a modified experience for viewers using ad blockers

Wikia is not accessible if you've made further modifications. Remove the custom ad blocker rule(s) and the page will load as expected.