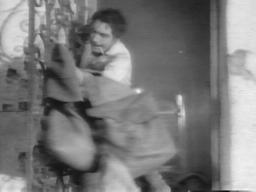 Anthony Quinn (1915 - 2001)
Film Deaths
Edit
The Ghost Breakers (1940) [Ramon Mederos]: Shot by Paul Lukas.
The Black Swan (1942) [Wagon, Leech's First Mate]: Crushed to death when the ship's mast fall on him, after British Navy fires on the pirate ship. (Thanks to Brian)
Guadalcanal Diary (1943) [Private Jese 'Soose' Alvarez]: Shot to death by a Japanese soldier during battle. (Thanks to William)
The Ox-Bow Incident (Strange Incident) (1943) [Juan Martinez/Franciso Morez]: Executed by hanging by a lynch mob, along with Dana Andrews and Francis Ford. (Thanks to Michael)
Buffalo Bill (1944) [Chief Yellow Hand]: Stabbed to death during a struggle with Joel McCrea.
The Brave Bulls (1951) [Raul Fuentes]: Killed in the car accident (off-screen), along with Miroslava; we learn of their deaths afterwards when Eugene Iglesias informs Mel Ferrer.
Ride, Vaquero! (1953) [Jose Esqueda]: Shot to death in the shoot out with Robert Taylor. (Thanks to Jeff)
Ulysses (1954) [Antinoos]: Shot in the chest with a bow and arrow by Kirk Douglas.
The Hunchback of Notre Dame (Notre Dame de Paris) (1956) [Quasimodo]: Dies of starvation while lying down next to Gina Lollobrigida's body in the crypt.
Hot Spell (1958) [John Henry Duval]: Killed in the car crash, along with Valerie Allen.
Last Train from Gun Hill (One Angry Day) (1959) [Craig Belden]: Shot to death by Kirk Douglas. (Thanks to Michael)
Warlock (Shoot Out at Warlock) (1959) [Tom Morgan]: Shot in the chest by Henry Fonda. (Thanks to Michael)
Portrait in Black (1960) [Dr. David Rivera]: Falls to his death from a window ledge while pursuing Sandra Dee and trying to kill her. (Thanks to Mac)
Barabbas (1962) [Barabbas]: Executed by crucifixion after he joined the Christians. (Thanks to Robert)
Across 110th Street (1972) [Capt. Mattelli]: Shot in the head with a sniper by Gilbert Lewis. (Thanks to Harry)
The Message (Mohammed: Messenger of God) (1976) [Hanza]: Stabbed with a spear during the battle. (Thanks to Nilescu)
The Inheritance (L'Eredita Ferramonti) (1978) [Gregerio Ferramonti]: Dies of natural causes (presumably a heart attack) while in bed with Dominique Sanda. (I haven't seen this movie, but got information from The Bare Facts Video Guide's description of Dominique's nude scenes.)
Lion of the Desert (1981) [Omar Mukhtar]: Executed by hanging, as Oliver Reed looks on.
Ghosts Can't Do It (1990) [Santiago]: Presumably dies of exhaustion and/or starvation while adrift at sea (I haven't seen this movie, but I vaguely remember the original story.)
Avenging Angelo (2002) [Angelo Allieghieri]: Shot repeatedly by Billy Gardell in a restaurant, he dies as Sylvester Stallone tries to save him. He later appears on a DVD message to his daughter (Madeleine Stowe). (This film was released a year after Anthony's real life death).
TV Deaths
Edit
None Known
Notable connections
Edit