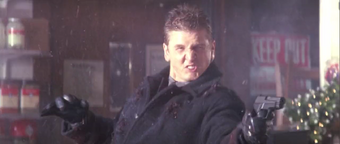 Barry Pepper (1970 - )
Deaths in Films
Edit
Firestorm (1998) [Packer]: Reportedly shot to death by William Forsythe while Barry is hanging from a tree. (I haven't seen this movie myself.) (Thanks to Gary)
Saving Private Ryan (1998) [Private Daniel Jackson]: Killed in an explosion when a German tank fires on the tower he's using as a sniping position.
The Green Mile (1999) [Dean Stanton]: Dies (off-screen), presumably of old age/natural causes, at some point between the 1930s flashbacks and the present-day framing sequence; It's been a while since I've seen the movie, but I believe his name was mentioned when Dabbs Greer lists some of his friends who had since died.
Deaths in TV
Edit
3: The Dale Earnhardt Story (2004 TV) [Dale Earnhardt]: Presumably killed in a car crash during the Daytona 500.
The Kennedys (2011 mini-series) [[[wikipedia:Robert_F._Kennedy|Robert 'Bobby' Kennedy]]]: Shot and mortally wounded by Sirhan Sirhan (no actor listed).
Deaths in Video Games
Edit
Prototype (2009) [Alex Mercer]: Shot to death by Blackwatch soldiers at Penn Station after unleashing the Blacklight virus on New York. His body is then taken over by the virus, who believes itself to be the real Alex Mercer.
Ad blocker interference detected!
Wikia is a free-to-use site that makes money from advertising. We have a modified experience for viewers using ad blockers

Wikia is not accessible if you've made further modifications. Remove the custom ad blocker rule(s) and the page will load as expected.