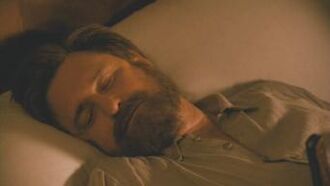 Bill Pullman (1953 - )
Film Deaths
Edit
The Last Seduction (1994) [Clay Gregory]: Poisoned when Linda Fiorentino sprays mace into his mouth while he's handcuffed, as Peter Berg looks on in shock. (Thanks to Eric)
Wyatt Earp (1994) [Ed Masterson]: Shot to death in the street. (Thanks to Ramiro and Tijay)
Mr. Wrong (1996) [Whitman Crawford]: Shot in the back by Joan Cusack while Bill is chasing Ellen DeGeneres through the aisle in church. (Thanks to Dan)
Titan AE (2000; animated) [Captain Joseph Korso]: Electrocuted by the Drej mothership's computer after sacrificing himself by firing at the main circuit of the ship while Matt Damon helps destroy the  Drej ship. (Thanks to Mathew)
The Grudge (2004) [Peter Kirk]: Commits suicide (while under the influence of the supernatural forces) by jumping from the balcony of his apartment, while Rosa Blasi looks on in horror; his body is shown lying on the ground afterwards.
Surveillance (2008) [Sam Hallaway]: Although he survives the actual movie, the US DVD includes an alternate ending in which he commits suicide by shooting himself in the head, after shooting Julia Ormond as a mercy killing.
Cymbeline (2014) [Sicilius Leonatus]: Killed in a shootout (off-screen) prior to the events of the film; he appears as a ghost to Penn Badgley.
Independence Day: Resurgence (2016) [President Thomas Whitmore]: Killed in an explosion when he detonates a shuttle full of bombs that he has flown into the Alien Queen's ship in order to destroy it.
Deaths in Television
Edit
Ad blocker interference detected!
Wikia is a free-to-use site that makes money from advertising. We have a modified experience for viewers using ad blockers

Wikia is not accessible if you've made further modifications. Remove the custom ad blocker rule(s) and the page will load as expected.