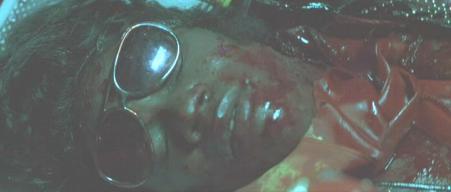 Bokeem Woodbine (1973 - )
Film Deaths
Edit
Jason's Lyric (1994) [Joshua Alexander]: Commits suicide (off-camera) by shooting himself. (Thanks to Michael)
Freeway (1996) [Chopper Wood]: Shot to death by gang members in a drive-by shooting, after saying goodbye to Reese Witherspoon.
Wishmaster 2: Evil Never Dies (1999) [Mr. Tarraion]: Face dissolved from being eaten by a swarm of bugs summoned by Andrew Divoff's powers. He is later brought back to life when Holly Fields tricks Andrew into undoing his death.
3000 Miles to Graceland (2001) [Franklin]: Shot to death by security guards while he and the rest of the gang are making their getaway from the casino robbery; he dies in the helicopter shortly afterwards. (Thanks to John)
Hard Cash (Run for the Money) (2002) [Rock]: Stabbed in the back (off-screen) by one of Val Kilmer's men in Sara Downing's trailer; his body is shown afterwards when Christian Slater walks in.
Sniper 2 (2003) [Cole]: Fatally shot in the chest by an enemy sniper; his death is later avenged by Tom Berenger, who then get both him and Dennis Hayden onto a military rescue helicopter. Bokeem slowly dies on the copter after talking to Berenger.
The Last Sentinel (2007) [Anchilles]: Shot to death as Bokeem and Don "The Dragon" Wilson were attempting to hold off the Drone reinforcements. It was also revealed that he was a Drone.
The Fifth Commandment (2008) [Miles Templeton]: Shot in the knees, and neck slit with a fan by Roger Yuan as Rick Yune watches on helplessly.
Devil (2010) [Ben Larson/Guard]: Neck snapped 180 degrees by Jenny O'Hara; his death occurs during a power outage and his body is seen once the lights come back on.
Riddick (2013) [Moss]: Stabbed through the chest by an alien creature (who then pulls him up onto the roof).
TV Deaths
Edit
Blade: The Series: Sacrifice (2006) [Steppin' Razor]: Staked through the back by Richard Roundtree as Woodbine is attacking Richard's son (Sticky Fingaz).
Flesh Wounds (2011 TV movie) [Jackie]: Although not killed on screen, he is shot (off-camera) by the predator. There is only a shot of his blood spraying onto a nearby tree.