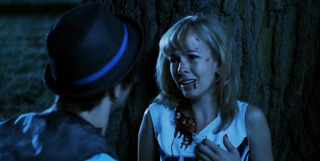 Brittany Allen
(1986 - )
Deaths in Film
Edit
Dead Before Dawn 3D (2012) [Lucy Winthrop]: After receiving a hickey from the zombie Rossif Sutherland, she commits suicide by running head-first into a tree; she succumbs to her injuries while talking to Tim Doiron, before reanimating as a zombie-demon. Her death is undone when Devon Bostick sacrifices himself in order to remove the curse from the town. (Played for comic effect.)
Extraterrestrial (2014) [April]: Shot to death by the US military (along with Freddie Stroma) after first being shot in the stomach. Her body is later seen again as the military incinerates it.
Jigsaw (2017) [Carly]: Burned in the neck with Hydrofloric Acid after being Accidentally Injected with the Acid Needles by Paul Braunstein, her death, Along with Paul, Laura Vandervoort and Mandela Van Peebles happened a Decade Ago to the Current Jigsaw Killing Spee.
Ad blocker interference detected!
Wikia is a free-to-use site that makes money from advertising. We have a modified experience for viewers using ad blockers

Wikia is not accessible if you've made further modifications. Remove the custom ad blocker rule(s) and the page will load as expected.