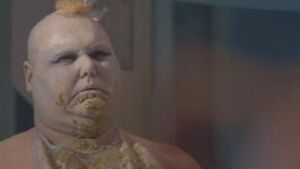 C. Ernst Harth
(1970 - )
Deaths in Film
Edit
Thirteen Ghosts (Thir13en Ghosts) (2001) [The Great Child (Harold Shelburne)]: Killed (off-screen) by a circus owner, several years before the story begins; he appears as a ghost throughout the movie. (The circumstances of his death are not given in the movie itself, but are revealed in the US DVD's special features.)
Capote (2005) [Lowell Lee Andrews]: Executed (off-screen) by hanging.
Deaths in Television
Edit
Monster Island (2004; TV movie) [Eightball]: Falls to his death when the giant mantis grabs his vehicle and pulls it over the edge of a cliff, after he tries to push the mantis off the cliff. (Thanks to Dan)
Once Upon a Time: Tiny (2013) [Abraham]: Killed (off-screen), presumably with a poisoned weapon, during combat.
Ad blocker interference detected!
Wikia is a free-to-use site that makes money from advertising. We have a modified experience for viewers using ad blockers

Wikia is not accessible if you've made further modifications. Remove the custom ad blocker rule(s) and the page will load as expected.