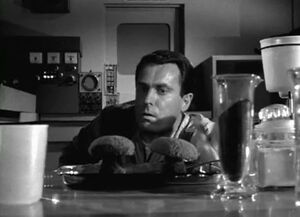 Dabney Coleman (1932 - )
Film Deaths:
Edit
9 to 5 (1980) [Franklin Hart]: Possibly killed by Amazons after they abduct him (off-screen); some on-screen text at the end of the film mentions that he is never heard from again. He is also killed in three fantasy segments; when he is shot and his head mounted by Jane Fonda, when he is tied up and suspended over a campfire by Dolly Parton, and when he is poisoned and ejected out of a window by Lily Tomlin.
Clifford (1994) [Gerald Ellis]: Presumably dies from the passage of time, from 1994 to 2050, where Martin Short is now an old man.
Domino (2005) [Drake Bishop] Shot to death by Stanley Kamel along with Peter Jacobson at top of Dabney's hotel because Stanley thought Dabney was responsible for the death of his son. (His son was in fact still alive.)
TV Deaths:
Edit
The Outer Limits: The Mice (1964) [Dr. Williams]: Fatally beaten (off-screen) by the alien Chromomite (Hugh Langtry); he dies after collapsing in front of a guard.
The Outer Limits: Specimen: Unknown (1964) [Lt. Rupert Howard]: Poisoned by one of the space flowers when it sprays a mist into his face; he dies after getting rid of it (but before he can get rid of the others).
The Invaders: The Saucer (1967) [John Carter]: Disintegrated, along with Kelly Thordsen and Robert Knapp when their car goes off the road whilst pursuing some aliens and the leader, Sandy Kenyon, fires his ray gun at the stationary car. (Thanks to Brian).
Noteworthy Connections:
Edit
Ad blocker interference detected!
Wikia is a free-to-use site that makes money from advertising. We have a modified experience for viewers using ad blockers

Wikia is not accessible if you've made further modifications. Remove the custom ad blocker rule(s) and the page will load as expected.