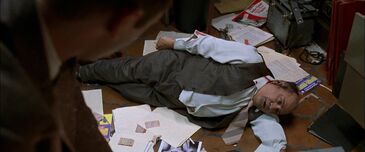 Danny DeVito (1944 - ) 
Film Deaths
Edit
Johnny Dangerously (1984) [Burr]: Trampled to death (off-screen) after a bull crashes through the wall of the bar (in a parody of the then-current Schlitz Malt Liquor ads). We see him screaming as the bull charges towards him, followed by a newspaper headline reading "D.A. Dies in Commercial." (Played for comic effect, obviously.)
Head Office (1985) [Frank Stedman]: Commits suicide by jumping out of the window in an office building. (Played for comic effect.) (Thanks to Neil)
Batman Returns (1992) [Oswald Cobblepot a.k.a. The Penguin]: Fatally injured when he falls through a skylight and into the water below, he emerges from the water and approaches Michael Keaton menacingly before he finally collapses and dies. (Danny was wearing heavy make-up for this role).
Mars Attacks! (1996) [Rude Gambler]: Disintegrated with a ray-gun by a Martian in a junkyard.(Played for comic effect).
Space Jam (1996) [Swackhammer]: Providing the voice of an animated alien, Danny is blown up after being stuffed into a rocket by his henchmen and launched to the moon where it explodes.
Nobel Son (2007) [Gastner]: Electrocuted with a radio (off-screen) in the bathtub; his body is shown afterwards when Bryan Greenberg and Mary Steenburgen discover him. (I'm unsure whether it was suicide or whether he was killed by Shawn Hatosy.)
TV Deaths
Edit
Noteworthy Connections
Edit
Ad blocker interference detected!
Wikia is a free-to-use site that makes money from advertising. We have a modified experience for viewers using ad blockers

Wikia is not accessible if you've made further modifications. Remove the custom ad blocker rule(s) and the page will load as expected.