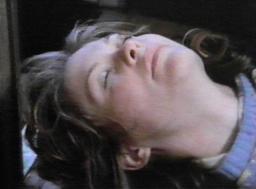 Dee Wallace (1948 - )
a.k.a. Dee Wallace Stone
Film Deaths:
Edit
The Hills Have Eyes (1977) [Lynne Wood]: Shot twice in the chest by Lance Gordon after she stabs him in the leg with a tent spike in her trailer.
The Howling (1981) [Karen White]: Shot with a silver bullet by Dennis Dugan after she changes into a werewolf during a live TV news broadcast. We only see Dennis firing, then a split-second shot of her wolf-face falling out of the frame.
I'm Dangerous Tonight (1990) [Wanda Thatcher]: Hit on the head and falls down a flight of stairs while attacking Madchen Amick. (Thanks to Dick Hertz)
The Frighteners (1996) [Patricia Ann Bradley]: Her spirit is pulled from her body by Michael J. Fox, then gets sucked into the pit of Hell (along with Jake Busey's spirit).
To Love, Honor & Betray (1999) [Julia Brennan]: Shot in the chest by David Cubitt. (Thanks to PortsGuy)
Boo (2005) [Nurse Russell]: Burned to death in a fire at the mental institution, after she throws the keys out the window, trapping herself inside rather than risk M. Steven Felty escaping. (Thanks to Lauren)
The Plague (Clive Barker's The Plague) (Video 2005/2006) [Nora]: Neck snapped by her posessed/brainwashed daughter (Hilary Carroll). Her body is later seen as her husband (John P. Connolly) comes into the church altar room (then again when James Van Der Beek enters the altar room after John shoots his daughter then commits suicide).
Scar (2005) [Isabella]: Hit in the face with an axe. (Thanks to Wayne)
Voodoo Moon (2005) [Mary-Ann]: Decapitated by Rik Young when he comes up behind her while she's doing laundry. (Thanks to Alex)
Halloween (2007) [Cynthia Strode]: Neck apparently snapped by Tyler Mane at the end of a brutal attack in her home. (I couldn't tell whether the sound effect at the end of the scene was meant to be a neck-breaking or the sound of a knife going into her back.) Her body is shown again later on when Brad Dourif arrives at the scene. (Thanks to Cody, Andrew, Eric, and ND)
Exit Humanity (2011) [Eve]: Attacked offscreen at her cabin by Bill Moseley and his men, Mark Gibson returns to find her dying, clutching her stomach with blood coming from her mouth, probably stabbed. (Thanks to Brian) 
TV Deaths:
Edit
Noteworthy Connections:
Edit
Ad blocker interference detected!
Wikia is a free-to-use site that makes money from advertising. We have a modified experience for viewers using ad blockers

Wikia is not accessible if you've made further modifications. Remove the custom ad blocker rule(s) and the page will load as expected.