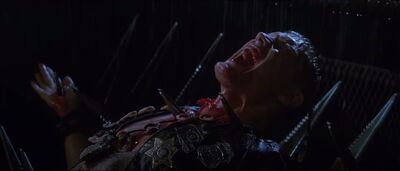 Dolph Lundgren
 (1957 - )
Film Deaths
Edit
Universal Soldier (1992) [Andrew Scott/GR13]: Stabbed in the stomach with a bayonet then shot repeatedly in the chest by Jean-Claude Van Damme. He later comes back to life by experimental scientific procedure and dies once again when he is cut to shreds after being pulled into a hay harvester after being impaled on its spikes at the end of a fight with Van Damme.
Johnny Mnemonic (1995) [Street Preacher]: Electrocuted (to the point he bursts into flames) while in a crucified pose when Keanu Reeves knocks a live power-line into him (whilst Dolph is holding onto a live wire) having been hit by a sonic blast from Dina Meyer. His charred body is later seen as Ice-T drops it into the ocean.
Universal Soldier: Regeneration (2009) [Andrew Scott]: Impaled through the forehead on a broken jagged lead pipe by Jean-Claude Van Damme who then fires a shotgun through it/into Dolph's mouth blowing out the back of his head.
The Expendables (2010) [Gunner Jensen]: Dies by Sylvester Stallone when he fighting with Jet Li.
Stash House (2012) [Andy Spector]: Shot repeatedly by police as he is about to shoot Briana Evigan.
Universal Soldier: Day of Reckoning (2012) [Andrew Scott]: Killed by Scott Adkins who puts a machete through his throat at the end of a fight
The Package (2013) [German]: Shot to death with machine-gun by Steve Austin as he draws his own weapon. 
A Certain Justice (Puncture Wounds) (2014) [Hollis]: Neck snapped at the end of a fight with Cung Le.
Altitude (2017) [Matthew Sharpe]: Dies when his plane crashes against a mountain.
TV Deaths
Edit
Ad blocker interference detected!
Wikia is a free-to-use site that makes money from advertising. We have a modified experience for viewers using ad blockers

Wikia is not accessible if you've made further modifications. Remove the custom ad blocker rule(s) and the page will load as expected.