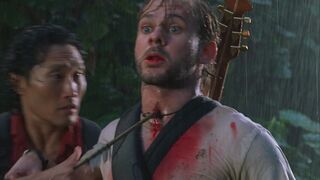 Dominic Monaghan
(1976 - )
Deaths in Film
Edit
X-Men Origins: Wolverine (2009) [Chris Bradley a.k.a. Bolt]: Slashed to death (off-screen) by Liev Schreiber at the carnival; we only hear Dominic screaming over an exterior shot of the carnival as all the lights go out (due to Dominic's powers over electricity). (Thanks to Tommy)
The Day (2011) [Rick]: Impaled on a spiked death trap rigged by Michael Eklund or his canibal cohorts after he triggers the food storage booby trap. He dies as Shawn Ashmore, Cory Hardrict, Shannyn Sossamon and Ashley Bell try to save him. With his body later seen as Shimon Moore discovers him, then again as they set him on fire on a makeshift funeral pyre (so cannibals won't eat him)
Atomica (2017) (Deep Burial) [Robinson]: Commits suicide by jumping into a nuclear power machine as sacrifice; Sarah Habel looks on in horror.
Deaths in Television
Edit
Ad blocker interference detected!
Wikia is a free-to-use site that makes money from advertising. We have a modified experience for viewers using ad blockers

Wikia is not accessible if you've made further modifications. Remove the custom ad blocker rule(s) and the page will load as expected.