Ethan Phillips (1955 - )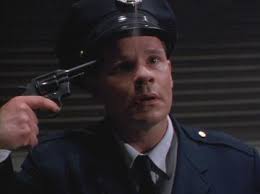 Film Deaths
Edit
TV Deaths
Edit
Star Trek: Voyager: Deadlock (1996) [Neelix]: Having been duplicated along with the ship and the rest of the crew, one "Neelix" is killed when Kate Mulgrew activates the ship's self-destruct. The other "Neelix" survives the episode.
Star Trek: Voyager: Mortal Coil (1997) [Neelix]: Killed by an energy discharge. He is later revived by Jeri Ryan's Borg technology.
Star Trek: Voyager: Timeless (1998) [Neelix]: Killed when the ship crashes. His death is undone when Garrett Wang successfully prevents the disaster.
Star Trek: Voyager: Course: Oblivion (1999) [Neelix]: Playing a "bio-mimetic copy" of his regular character, the copy is killed when the duplicate ship disintegrates. The regular "Neelix" survives the episode.
Criminal Minds: A Real Rain (2006) [Doyle]: Shot to death by Thomas Gibson as a Suicide by Cop while trying to Shot Mandy Patinkin as Mandy trying to convince him to surrender.
Arachnoquake (2012; TV movie) [Roy]: Poisoned with spider venom and dies in his son's (Bug Hall) arms.
Ad blocker interference detected!
Wikia is a free-to-use site that makes money from advertising. We have a modified experience for viewers using ad blockers

Wikia is not accessible if you've made further modifications. Remove the custom ad blocker rule(s) and the page will load as expected.