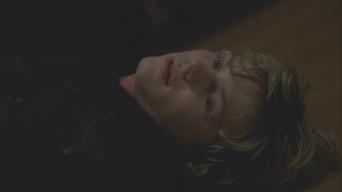 Evan Peters (1987 - )
Film Deaths
Edit
TV Deaths
Edit
Ghost Whisperer: Excessive Forces (2009) [Dylan Hale (Ghost)]: Appears as a ghost, though I don't know the circumstances of his death. (I haven't seen this episode, but the IMDB's identification of his role gives away his status.)
American Horror Story: Piggy Piggy (2011) [Tate Langdon]: Shot repeatedly by SWAT officers in his bedroom, after he pulls out a gun. (He appears as a ghost throughout the first season; this episode is the one that depicts his death.) (Thanks to Tommy, Lauren, and Frank)
American Horror Story: Asylum: Madness Ends (2013) [Kit Walker]: Possibly dies of pancreatic cancer (off-screen); Evan is abducted by aliens while in his home, but it is unknown if he succumbs to the cancer. (Thanks to Lauren)
American Horror Story: Coven: Bitchcraft (2013) [Kyle Spencer] Killed when Emma Roberts telekinetically flips the bus he's riding in. He is later brought back as a reanimated human through Emma's and Taissa Farmiga's magic in the episode Boy Parts.
American Horror Story: Hotel: Chutes and Ladders (2015) [James March]: Commits suicide by slashing his own throat to avoid being arrested by police (He appears as a ghost throughout the season.)
American Horror Story: Roanoke: Chapter 5 (2016) [Rory Monahan (as Edward Phillipe Mott - Reenactment)]: Stabbed through the back with a spike and burned in a fire by the Roanoke colonists under the order of Kathy Bates as part of the blood moon sacrifice. He later appears as a ghost in the episode coming to the aid of Sarah Paulson, Cuba Gooding Jr. and Saniyya Sidney.
American Horror Story: Roanoke: Chapter 6 (2016) [Rory Monahan]: Stabbed to death by the ghosts of Areana Cirina and Jenna Doolittle in order for them to form the second R on the word Murder. His body is discovered disemboweled and hanging from a tree in the next episode Chapter 7 by his wife (Sarah Paulson), Angela Bassett and Adina Porter.
Ad blocker interference detected!
Wikia is a free-to-use site that makes money from advertising. We have a modified experience for viewers using ad blockers

Wikia is not accessible if you've made further modifications. Remove the custom ad blocker rule(s) and the page will load as expected.