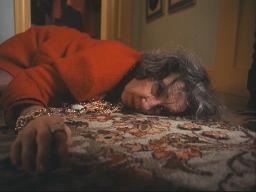 Frances Bay (1919 - 2011)
Film Deaths:
Edit
Big Top Pee-wee (1988) [Mrs. Haynes]: grown up spirit possibly died along with the rest of the old people when paul reubens feeds them youth weiners (its unknown if they died since they became kids but i'll list it just in case.
Arachnophobia (1990) [Evelyn Metcalf]: My memory of this movie is vague, but I believe she died (off-screen) after being bitten by one of the spiders.
The Paperboy (1994) [Mrs. Rosemont]: Dies of a heart attack after she believes that Marc Marut had beaten her dog to death with a baseball bat when in reality, it was a pair of ribs.
Ring Around the Rosie (2006) [Nanna]: Dies (off-screen) of old age/natural causes; we last see her in the hospital talking to her granddaughter (Gina Phillips), followed by a scene of her funeral. (Thanks to Stephen)
TV Deaths:
Edit
Faerie Tale Theatre: Little Red Riding Hood (1983) [Granny]: Possibly died after being swallowed whole by malcolm mcdowall, she was later revived along with mary steenburgen when darrell larson cuts malcolm's stomach open and gets them out.
Tales from the Crypt: Judy, You're Not Yourself Today (1990) [Witch]: Shot to death through the closet door by Brian Kerwin while she's locked inside; her body is shown afterwards when she falls out of the closet. She later comes back to life as a zombie to switch bodies with Carol Kane. (Note: The zombie was not played by Frances, but by Shari Stagliona Maier.)
Ad blocker interference detected!
Wikia is a free-to-use site that makes money from advertising. We have a modified experience for viewers using ad blockers

Wikia is not accessible if you've made further modifications. Remove the custom ad blocker rule(s) and the page will load as expected.