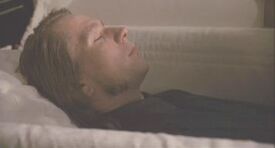 Gary Oldman (1958 - )
Film Deaths:
Edit
State of Grace (1990) [Jackie Flannery]: Shot three times in the chest by his brother (Ed Harris) on the pier at night. His body is shown again during his funeral.
Immortal Beloved (1994) [Ludwig von Beethoven]: Dies of cirrhosis; it's been a while since I've seen this movie, but I believe his death was shown at the beginning, with previous events in his life being shown in flashbacks throughout the movie.
Leon (1994) (The Professional; The Cleaner) [Norman Stansfield]: Killed in an explosion when Jean Reno sets off the grenades strapped to his own chest, after Gary shoots Jean in the back.
The Scarlet Letter (1995) [Rev. Arthur Dimmesdale]:
The Fifth Element (1997) [Jean-Baptiste Emanuel Zorg]: Killed in an explosion when one of his alien henchmen activates the bomb and destroys the space station.
Lost in Space (1998) [Dr. Zachary Smith]: Sucked into a time vortex and torn apart, after being transformed into a CGI spider-creature. This future version of the character is later prevented from coming about due to time-travel; the "present" version of Gary survives the movie.
Quest for Camelot (1998; animated) [Sir Ruben]: Killed by a supernatural force after being tricked into returning Excalibur to its stone.
A Christmas Carol (2009; animated) [Jacob Marley/Bob Cratchit]: Playing multiple roles, "Jacob Marley" dies (off-screen) shortly before the story begins; his body is shown afterwards lying in a coffin, and he appears as a ghost to Scrooge (voiced by Jim Carrey).
Rain Fall (2009) [William Holtzer]: Shot in the forehead (off-screen). His body is shown laying on a couch.
The Book of Eli (2010) [Carnegie]: Presumably dies (off-screen) of blood poisoning/infection after being shot in the leg by Denzel Washington. His actual death isn't confirmed, but his fate is heavily implied when Jennifer Beals tells him the wound is infected. NOTE: There is a deleted scene where he dies in bed due to his wound with Jennifer by his side. 
Dawn of the Planet of the Apes (2014) [Dreyfus]: Commits suicide by detonating C-4 placed around the building he is beneath in order to kill the attacking apes, blowing up Jocko Sims and Lee Ross in the process as well.
The Hitman's Bodyguard (2017) [Vladislav Dukhovich]: Falls to his death after Samuel L. Jackson kicks him off the rooftop of the Hague onto a car as public watches on in horror.
Tau (2018) [Tau]: Providing the voice of the computer it is destroyed when Maika Monroe activates the houses self destruct mechanism. The computer exists until she takes one of its mobile drones and shows it what the outside world looks like.
Television Deaths:
Edit
Screen Two: The Firm (1989) [Bex Bissell]: Shot to death by Philip Davis.
Video Game Deaths:
Edit
True Crime: Streets of LA (2003) [Rasputin "Rocky" Kuznetskov/Agent Masterson]: Playing a dual role, "Rocky" is burned to death after Russell Wong destroys his plane in the game's good ending. In the game's average ending, he is shot in the back by Michelle Rodriguez while preparing to stab Russell. In the game's bad ending, he is hanged by North Korean Army commandos. "Agent Masterson" survives the game.
Call of Duty: Black Ops (2010) [Viktor Reznov/Dr. Clarke]: Playing a dual role, "Viktor Reznov" is killed (off-screen) by Russian soldiers while escaping from prison; he appears as a hallucination to Sam Worthington throughout the game. His death is revealed when Ed Harris and Gene Farber inform Sam. "Dr. Clarke" is shot in the head by a Russian soldier while Ed is attempting to pull him to safety.
Lego Dimension (2015) [Lord Vortech]: Gary Oldman voices the big bad, Lord Vortech in the game. Lord Vortech wants to take control of all Lego worlds, but eventually he gets stopped by a group of iconic heroes from various familiar franchises lead by Troy Baker, Tom Kane and Elizabeth Banks.
Notable Connections
Edit