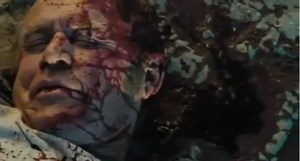 Geoffrey Lewis (1935 - 2015)
Film Deaths
Edit
Moon of the Wolf (1972) [Lawrence Burrifors]: Mauled to death (off-screen) by a wolf. (Thanks to Michael)
Dillinger (1973) [Harry Pierpont]: Shot in the chest by a road cop, as he is trying to get help for his wounded arm. (in real-life, Pierpont was sent to the electric chair). (Thanks to Fred)
High Plains Drifter (1973) [Stacey Bridges]: Shot to death by Clint Eastwood during the final shoot-out. (Thanks to Fred)
Thunderbolt and Lightfoot (1974) [Eddie Goody]: Shot by police while hiding in the trunk of the getaway car; he dies after George Kennedy opens the trunk and dumps him out in the road.
The Return of a Man Called Horse (1976) [Zenas]: Killed in an explosion during a battle with Richard Harris and the Sioux warriors. (Thanks to Michael)
Heaven's Gate (Johnson County Wars) (1980) [Trapper Fred]: Shot to death by Sam Waterston and Sam's men when Geoffrey attempts to shoot at them. (Thanks to Robert)
Pink Cadillac (1989) [Ricky Z]: Killed off-screen by one of the white supremacist group members
Only the Strong (1993) [Kerrigan]: Killed (off-screen) by gang members.
Point of No Return (The Assassin) (1993) [Drugstore Owner]: Shot in the back by Bridget Fonda's accomplices, as he tries to defend himself during a robbery.
The Way of the Gun (2000) [Abner Mercer]: Fatally wounded in a shoot-out; he dies off-screen after sending James Caan away. (Thanks to Fred)
Down in the Valley (2005) [Sheridan]: Shot repeatedly by Edward Norton during a shoot-out by his car.
TV Deaths
Edit
Salem's Lot (1979 TV) [Mike Ryerson]: Burned to death (along with the other vampires) when Lance Kerwin and David Soul set fire to the house. (Thanks to Michael)
Gunsmoke: The Last Apache (1990; TV) [Bodine]: Stabbed in the stomach with his own knife in a knife fight with James Arness. (Thanks to Brian)
Noteworthy Connections
Edit
Ad blocker interference detected!
Wikia is a free-to-use site that makes money from advertising. We have a modified experience for viewers using ad blockers

Wikia is not accessible if you've made further modifications. Remove the custom ad blocker rule(s) and the page will load as expected.