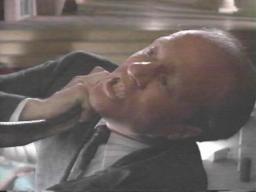 Gregg Henry (1952 - )
Film Deaths
Edit
Body Double (1984) [Sam]: Drowned after his dog knocks him into the reservoir. (Thanks to PortsGuy)
Fair Game (Mamba) (1988) [Gene]: Bitten on the throat by a black mamba in Trudie Styler's home, after she tricks him into thinking the snake has killed her.
Layover (2001) [Jack Gillardo]: Shot in the back by Sherri Alexander while Gregg is holding a gun on David Hasselhoff while standing on the wing of an airplane in a hangar; he then falls off of the wing, so it's arguable whether it was the shot or the fall that killed him.
Femme Fatale (2002) [Shiff]: Possibly killed (off-screen) by Eriq Ebouaney and Edouard Montoute in a struggle in Gregg's car; we only see the start of the struggle, so it's not confirmed whether or not Gregg is killed. (This turns out to be Rebecca Romijn's premonition of the future, which she prevents from coming true.)
Slither (2006) [Mayor Jack MacReady]: Shot in the head by Nathan Fillion (at Gregg's own request) as the alien parasites are taking over Gregg's body. (Thanks to Eric)
Teen Titans: The Judas Contract (2017; animated, video) [Brother Blood]: Shot in the back by Mother Mayhew (Meg Foster).
TV Deaths
Edit
Pearl (1978 TV mini-series) [Lt. (j.g.) Doug North]: Dies (off-screen) from his injuries during the attack on Pearl Harbor. We learn of his death when Lesley Ann Warren informs Tiana Alexandra of his death.
The Blue and the Grey (1982 TV mini-series) [Lester Bedell]: Killed when the hospital he's in is bombarded by Union troops. (Thanks to Robert)
Murder, She Wrote: The Big Kill (1993) [Carl Ward]: Dies of carbon monoxide poisoning after Michael Beck knocks him out and handcuffs him in a sabotaged boat's engine room. His body is shown afterwards when Michael goes into the boat, and the murder is shown in a flashback later on.
Terminal (1996 TV) [Brian O'Grady]: Shot twice in the chest by Michael Ironside after a lengthy chase. (Thanks to ND)
Lizzie Borden Took an Ax (2014 TV) [Hosea M. Knowlton]: Died (off-screen) (though I don't know the details).