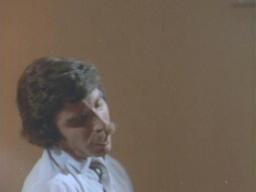 Harry Reems
(1947 - 2013)

a.k.a. Dan Stryker, many other pseudonyms
Films Deaths
Edit
Deadly Weapons (1973) [Tony]: Suffocated when Chesty Morgan presses his face between her breasts in his hotel room; she lets his body fall back afterwards.
Forced Entry (1973) [The Gas Station Attendant]: He has a psychotic break, then screams out stay away from me! and has a series of flashbacks to both the war and the rapes and murders he has committed, The Gas Station Attendant then shoots himself in the head. Returning to the intro, The Gas Station Attendant's body is covered by a sheet, and hauled away by the police.
Demented (1980) [Matt Rogers]: Hacked to death with a cleaver (off-screen) by Sallee Young; the movied ends with a freeze-frame of Sallee as she rushes towards him with a cleaver.
To All a Goodnight (1980) [Pilot]: Slashed to death (off-camera), along with Linda Gentile, by the propellors of the plane when either Katherine Herrington or Sam Shamshak start the engine while Harry and Linda are trying to figure out what's wrong with the plane. We only see their blood splash onto the plane. (The murders are committed by Katherine and Sam working together in identical Santa Claus disguises; thus, it could be either one of them in any of the murder scenes.) (Note: On the original Cinemorgue website, I had this listed on a separate page for "Dan Stryker"; since I created that listing, it's been confirmed that "Dan Stryker" is one of Harry's pseudonyms and not a separate person.)
TV Deaths
Edit
None
Ad blocker interference detected!
Wikia is a free-to-use site that makes money from advertising. We have a modified experience for viewers using ad blockers

Wikia is not accessible if you've made further modifications. Remove the custom ad blocker rule(s) and the page will load as expected.