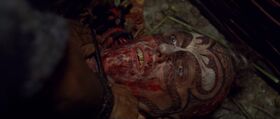 Hugh Grant (1960 - )
Film Deaths
Edit
Privileged (1982) [Lord Adrian]: Killed by an unknown assailant.
The Bengali Night (1988) [Allan]: Killed by an assassin.
American Dreamz (2006) [Martin Tweed]: Killed in an explosion (along with Chris Klein) when Chris accidentally triggers the detonator after walking into a camera manned by Grant at the same time as Hugh moves in closer. (Played for comic effect.)
Cloud Atlas (2012) [Reverend Giles Horrox/Hotel Heavy/Lloyd Hooks/Denholm Cavendish/Seer Rhee/Kona Chief]: Playing multiple roles in the various segments of the film, "Seer Rhee" dies (off screen) of a drug overdose; his body is seen when Doona Bae discovers Jim Sturgess kneeling over it. The "Kona Chief" is slashed across the throat by Tom Hanks after Tom catches him sleeping in his house in the aftermath of the Kona attack on the village. Grant's other roles survive their stories, though it's likely that they die of old age/natural causes over the course of the decades between each plot. (Grant is in heavy make-up for several of these roles.)
Florence Foster Jenkins (2016) [St Clair Bayfield]: Dies (off-screen) in 1967, many years after the film ends; his death is told in the closing text.
TV Deaths
Edit
Doctor Who: Doctor Who and the Curse of the Fatal Death (1999) [The Twelfth Doctor]: Mortally wounded after being shot with pure zactronic energy while trying to fix the Dalek's machine; he regenerates into a very new form (Joanna Lumley) (Played for comic effect).