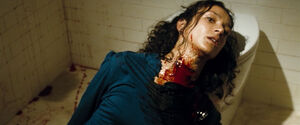 Indira Varma
(1973 - )
Film Deaths
Edit
Jinnah (1998) [Ruttie Jinnah]: Dies from cancer.
Basic Instinct 2 (2006) [Denise Glass]: Throat slit (off-screen) in a nightclub restroom; she is shown afterwards when David Morrissey discovers her, and she dies (off-screen) in the hospital shortly afterwards. (The movie offers three suspects: Sharon Stone, Morrissey, and David Thewlis; while it's strongly hinted that Sharon is the killer, it's never definitively confirmed who did it.) (Thanks to Eric)
Exodus: Gods and Kings (2014) [High Priestess]: Hung on the orders of Joel Edgerton after Indira gives him information he didn't care to hear.
TV Deaths
Edit
Rome: Kalends of February (2005) [Niobe]: Commits suicide by jumping to her death. Her body is shown again afterwards in the next season's opening episode Passover (2007). (Thanks to Sheena and Stephen)
Torchwood: Everything Changes (2006) [Suzie Costello]: Commits suicide by shooting herself in the head; her body is shown again later on in the morgue. (Thanks to The Young Doctor)
World Without End (2010) [Mattie Wise]: Drowned in a river when the bridge she is standing on collapses as she is about to be hanged, after falsely being charged with witchcraft; her body is shown when Charlotte Riley recovers it. (Thanks to Brian)
What Remains: Episode #1.4 (2013) [Elaine Markham]: Mortally stabs and slashes David Threlfall (offscreen) after he discovers the body of Victoria Hamilton. She then goes after Amber Rose Revah in the loft, Revah escapes her by knocking her out of the loft and as she gets up Threlfall's last act is to fire an arrow into her stomach. (Thanks to Brian).