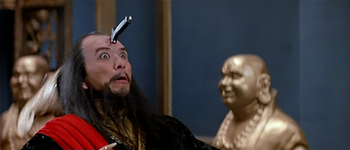 James Hong (1929 - )
Film Deaths
Edit
Airplane! (Flying High) (1980) [Japanese General]: Commits suicide by hara-kiri while sitting next to Robert Hays on the plane, to escape from having to listen to Robert's flashback. (Played for comic effect)
Blade Runner (1982) [Hannibal Chew]: Presumably killed (off-screen) by Rutger Hauer and Brion James, although neither his murder nor his body is shown explicitly in the theatrical release. Apparently there's a deleted scene where Hong's frozen body is shown.
Black Widow (1987) [Shin]: Dies of a heroin overdose in his office, when Theresa Russell forces him to take the drugs at gunpoint. His body is shown afterwards when the police investigate.
Tango & Cash (1989) [Quan]: Machine-gunned by Sylvester Stallone. (Thanks to Tal and Zeppo)
The Shadow (1994) [Li Peng]: Shot to death by Alec Baldwin's men when James tries to use Arsenio 'Sonny' Trinidad as a human shield, and Alec tells them to shoot through him. (Thanks to Anton)
Cyber Bandits (1995) [Tojo Yokohama]: Beaten to death (off-screen) by Nils Allen Stewart and another thug after they break into his tattoo parlor while he's working on Martin Kemp. His body is shown afterwards when Martin regains consciousness.
Guns and Lipstick (1995) [Mr. Song]: Shot repeatedly in the chest by a hitman in a drive-by shooting outside the police station.
The Art of War (2000) [Wu]: Shot in the back of the head with a sniper by Michael Biehn.
The Lost Medallion: The Adventures of Billy Stone (2013) [Faleaka]: Shot in the chest/neck with a crossbow bolt by one of Mark Dacascos's assassins (who is then killed with a slingshot fired stone to the head), when he sacrifices himself by leaping in front of the projectile to shield Billy Unger (he dies while talking to Billy and the other kids).
Summoned (2013) [Frank Steer]: Killed (off-screen) by Tim Abell in a manner that appeared as having a heart attack while asleep. His body is shown when a nurse enters his room to wake him up.
TV Deaths
Edit
Video Game Deaths
Edit
Sleeping Dogs (2012) [Uncle Po]: After being shot he is killed by Tom Wilkinson in the hospital as he injects lethal chemicals into his IV.
Ad blocker interference detected!
Wikia is a free-to-use site that makes money from advertising. We have a modified experience for viewers using ad blockers

Wikia is not accessible if you've made further modifications. Remove the custom ad blocker rule(s) and the page will load as expected.