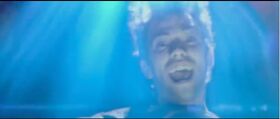 Jay Baruchel (1982 - )
Deaths in Film
Edit
Tropic Thunder (2008) [Kevin Sandusky]: In a film within the film, he most likely died (off-screen) when James Lew stabs with a blade on a gun. However, this is later revealed to be just movie setting but it's possible his character's film character died from the wounds. Jay Baruchel survives the film in reality.
Deaths in Television
Edit
.Are you afraid of the Dark: The Tale of the Dead's Man Float (1995) [Joe] Put underwater in the pool by Marcel Jeannin, when Byron Johnson tries to save him. His death was mention by Michael Ayoub in the present. Jay only appears in the 1954 opening.
Ad blocker interference detected!
Wikia is a free-to-use site that makes money from advertising. We have a modified experience for viewers using ad blockers

Wikia is not accessible if you've made further modifications. Remove the custom ad blocker rule(s) and the page will load as expected.