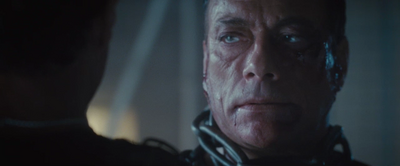 Jean-Claude Van Damme (1960 - )
Film Deaths
Edit
Black Eagle (1988) [Andrei]: Slashed to death by a boat propeller after being dragged underwater, as Dorota Puzio watches on in horror. (Thanks to ND)
Kickboxer 2 (1991) [Kurt Sloane] Killed by Tong Po (Michel Qissi) about a year before the events of this movie. Jean-Claude himself does not actually appear in the movie, but actor 

Emmanuel Kervyn portrays Kurt's death scene

.
Universal Soldier (1992) [Private Luc Devereaux]: Shot repeatedly by Dolph Lundgren (whom he shoots in return); his body is shown afterwards being zipped up in a body bag. He is later brought back to life through an experimental scientific procedure. (Thanks to Martin and ND)
Maximum Risk (Bloodstone; The Exchange) (1996) [Alain Moreau/Mikhail Suverov]: Playing a dual role as twin brothers, "Mikhail" is thrown through the windshield of an oncoming car while being chased by Paul Ben-Victor and Frank Senger. His body is shown afterwards in the morgue when Jean-Hugues Anglade shows him to "Alain." ("Alain" survives the movie.) (Thanks to ND)
The Order (2001) [Rudy Cafmeyer/Charles La Vaillaint]: Playing a dual role in two time periods, "Charles" is slashed to death with a sword by a knight in the 12th-century prologue. ("Rudy" survives the movie.) (Thanks to ND)
Replicant (2001) [Edward 'The Torch' Garrotte/Replicant]: Playing a dual role, "Garrotte" is shot repeatedly by Michael Rooker at the end of a fight between the two Jean-Claudes, with his body later seen as the room he's in is engulfed in flames. "Replicant" survives the movie. (Thanks to ND)
Until Death (2007) [Anthony Stowe]: Although he survives the US version, some European releases have a different ending in which he is shot to death in a shoot-out with Stephen Rea. (Thanks to ND)
The Expendables 2 (2012) [Jean Vilain]: Stabbed in the stomach by Sylvester Stallone, as Sylvester chokes Jean-Claude with a chain and uses it to pull Jean-Claude towards the knife. Sylvester then decapitates his body (off-screen); his severed head is shown afterwards when Sylvester throws it to the ground. (Thanks to Tommy, Tim, Carlos, Vongjohn, and ND)
Universal Soldier: Day of Reckoning (2012) [Luc Deveraux]: Killed when John (Scott Adkins) puts a machete through his stomach at the end of a fight.
Enemies Closer (2013) [Xander]: Killed in an explosion when Tom Everett Scott throws a flare in the water where gasoline is leaking from the boat that Jean-Claude is driving away on, igniting the fuel trail.
Swelter (2014) [Stillman]: Stabbed in the abdomen by Daniele Favilli as the pair were fighting.
Pound of Flesh (2015) [Deacon]: Bleeds to death some times later after brutal fight with Darren Shahlavi, which also ended up with killing his opponent. His kidney was used to save his daughter.
TV deaths
Edit
Las Vegas: Die Fast, Die Furious (2004) [Jean-Claude Van Damme]: Falls to his death from the hotel roof after a stunt is sabotaged.
Noteworthy Connections
Edit
Ad blocker interference detected!
Wikia is a free-to-use site that makes money from advertising. We have a modified experience for viewers using ad blockers

Wikia is not accessible if you've made further modifications. Remove the custom ad blocker rule(s) and the page will load as expected.