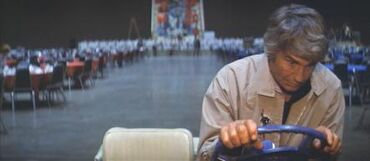 Jim Davis (1909 - 1981)
Not to be confused with Garfield creator Jim Davis
Film Deaths
Edit
The Cariboo Trail (1950) [Miller]: Gets beaten in a fight by Randolph Scott, then grabs a logging axe, twirls it to throw, so Scott shoots him. (Thanks to Brian)
The Restless Breed (1957) [Ed Newton]: Gunned down in the final showdown in the saloon by Scott Brady. (Thanks to Brian)
Rio Lobo (Sam Timoteo) (1970) [Rio Lobo Deputy]: Shot to death in a shoot-out with John Wayne. (Thanks to Michael)
The Parallax View (1974) [Senator John Hammond]: Shot in the back by a Parallax Corporation assassin while Jim is driving a cart through an assembly hall during a campaign-stop rehearsal.
TV Deaths
Edit
Night Gallery: The Waiting Room (1972) [Abe Bennett]: Shot in the head (off-screen) by a deputy while hiding in the bell tower; he appears as a ghost in the afterlife "saloon", and we hear the bell tolling after he leaves the saloon to relive his death.
Dallas: The Search (1982) [Jock Ewing]: Killed (off-screen) in a helicopter crash; his death is confirmed when his sons find his medallion in a lake. (Jim doesn't appear in this episode, due to his real-life death the previous year.)
Ad blocker interference detected!
Wikia is a free-to-use site that makes money from advertising. We have a modified experience for viewers using ad blockers

Wikia is not accessible if you've made further modifications. Remove the custom ad blocker rule(s) and the page will load as expected.