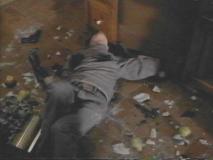 Judd Nelson (1959 - )
Deaths in Film
Edit
Relentless (1989) [Arthur 'Buck' Taylor]: Shot in the chest by Leo Rossi, after Judd takes Meg Foster and her son (Brendan Ryan) hostage in Leo's home (then challenges Leo to fire), he dies after handing a thank you note to Leo.
Dark Asylum (2001) [Quitz]: Killed (off-screen) by Larry Drake; we last see him being dragged away by Larry. His death is confirmed when Larry shows Paulina Porizkova a bloodied key Judd had swallowed.
Nurse 3D (2014) [Dr. Morris]: Bleeds to death after having his arm sliced off by Paz de la Huerta.
Sex & Bullets (2001) [Seymour Cassel] gets shot to death in the back by Amy Hathaway this is a rare movie made in 2001 a b rated movie judd starred in as a crook pretending to be a sex therapist
Netherbeast Incorporated (2007) [Steve the consultant]: Gets stuck in the chest with the point of a gun by Steve Burns and bleeds out to death Judd played Steve a 108 year old vampire pretending to be human form another rare and b rated movie as well also a comedy.
Circumstances Unknown (1995) [Paul Kinsey]: jumps out of a boat and into the water after seeing a ghostly figure its unknown if judds character in this died from drowning he plays a killer who leaves flowers on the graves of his victims this was a made for tv movie back in 1995 very rare also
Tales from the Crypt; What's Cookin'? (1992) [Gaston]: Killed (off screen) by Christopher Reeve and Bess Armstrong so that Judd can be eaten by Art Lefleur; the episode ends with Reeve burning Judd's face on a stove.
The Outer Limits: Something About Harry (2000) [Harry Longworth]: Killed by Barbara Tyson. Details escape.
Infected (2008; TV movie) [Malcolm Burgess]: Stabbed by the creature's claws and later succumbs to blood loss from the wounds caused.
Nikita: Set-Up (2013) [Ronald Peller]: Playing a dual role as "Ronald Peller" and his double, the double is shot in the back by Maggie Q, just as the double is about to kill Judd's son (Aaron Stanford). The real "Ronald Peller" survives the episode.
Conflict of Interest (1993) [Charles (Gideon) Morningside]: Has a standoff in car scene with Christopher McDonald he gets shot in head by Chris but the bullet hits the window and misses Judd he then puts the car in speed mode and races at mick at highspeed but nearly missing him and he rides right towards the propane tank killing him on impact as soon as his car hits the tank he dies by explosion (this was a made for tv cable flick on HBO in late 1993)
Infected (2008) [Malcolm Burgess]: Gets clawed in the back of neck back in of the neck and bleeds out to death this was a made for tv Canadian movie back in 2008 another b rated film judd played an alien scientist surveying human life
Ad blocker interference detected!
Wikia is a free-to-use site that makes money from advertising. We have a modified experience for viewers using ad blockers

Wikia is not accessible if you've made further modifications. Remove the custom ad blocker rule(s) and the page will load as expected.