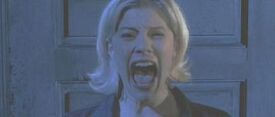 Katee Sackhoff (1980 - )
Film Deaths:
Edit
Oculus (2014) [Marie Russell]: Shot in the head by her husband (Rory Cochrane); her death is shown in flashback and her ghostly visage is seen throughout the film.
Television Deaths:
Edit
Battlestar Galactica: Maelstrom (2007) [Captain Kara 'Starbuck' Thrace]: Killed in an explosion when her ship blows up. She later mysteriously reappeared in the episode Crossroads Part II; in the subesquent episode Sometimes a Great Notion, Katee and Callum Keith Rennie find the wreckage of her ship and discover her own charred body inside, confirming that she was indeed killed but had somehow been brought back.
Battlestar Galactica: Daybreak Part 2 (2009) [Captain Kara 'Starbuck' Thrace]: Vanishes into thin air after telling Lee Bamber that her work is done, indicating that whatever force had brought her back was now letting her move on and die once again.
Internet Shorts:
Edit
Power/Rangers (2015)Power/Rangers (2015) [Kimberly]:[Kimberly]: Hit by shrapnel during a battle with giant robots that happens several years before the short begins; her dead body is shown being cradled by Russ Bain as Russ finds out that the version of Katee he's been talking to merely a disguise put on by Carla Perez.
Gallery:
Edit