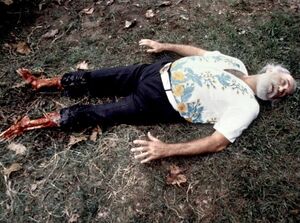 Keenan Wynn (1916 - 1986) 
Film Deaths
Edit
All the Brothers Were Valiant (1953) [Silva]: Bludgeoned to death by Stewart Granger, just as Keenan impales him with a harpoon lance.
Stagecoach (1966) [Luke Plummer]: Shot to death in a shoot-out with Alex Cord in a saloon. (Thanks to Richard)
The War Wagon (1967) [Wes Fletcher]: Shot in the chest by a Native American warrior after Keenan pulls a knife on him. (Thanks to Stephen)
Welcome to Hard Times (1967) [Zar]: Shot in the chest by Warren Oates (who had mistaken him for Aldo Ray) when Keenan runs out of the burning saloon.
Mackenna's Gold (1969) [Sanchez]: Shot to death, along with several other bandits and townspeople, in an ambush by the cavalry.
The Manipulator (1971) [Old Charlie]: Stabbed in the chest with a sword by Mickey Rooney in Mickey's warehouse "film studio", as Luana Anders looks on in horror.
Pretty Maids All In a Row (1971) [Chief John Poldaski]: Neck snapped (off-screen) by Rock Hudson; his body is shown afterwards (along with Joy Bang's) lying on the football field the next morning.
The Mechanic (1972) [Big Harry McKenna]: Shot numerous times by Charles Bronson in the chest and stomach before Charles shoots him to death in his car to make it seem like a car-jacking. (See also Donald Sutherland's death in the 2011 version.) (Thanks to Michael)
The Devil's Rain (1975) [Sheriff Owen]: Explodes (due to being demonically possessed) after falling into a pit during a struggle with Tom Skerritt. (Thanks to Michael)
Orca (Orca: The Killer Whale) (1977) [Novak]: Dragged into the sea by the maddened orca after Keenan disposes of the body of the orca's dead mate from Richard Harris' boat.
Black Moon Rising (1986) [Iron John]: Killed (off-screen) by Lee Ving's thugs; his body is shown afterwards when Tommy Lee Jones discovers him. (Thanks to Michael)
TV Deaths
Edit
Notable Connections
Edit
Father of Tracy Keenan Wynn (screenwriter).
Ad blocker interference detected!
Wikia is a free-to-use site that makes money from advertising. We have a modified experience for viewers using ad blockers

Wikia is not accessible if you've made further modifications. Remove the custom ad blocker rule(s) and the page will load as expected.