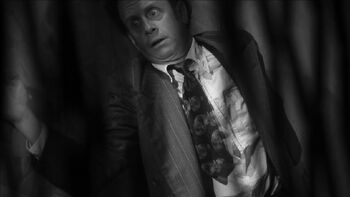 Kevin McDonald
(1961 - )
Deaths in Film
Edit
Keyhole (2011) [Ogilbe]: Electrocuted when he attempts to have sex with Paula Blair's ghost (who takes no notice of him) in the hallway. His body is then carried downstairs by Theodoros Zegeye-Gebrehiwot, and is later placed in the bog by Jason Patric and Jason's men. Kevin appears as a ghost afterwards, having sex with Paula's ghost (who still fails to notice him). (Played for comic effect.)
Dead Before Dawn 3D (2012) [Professor Reginald Duffy]: Commits suicide by inhaling carbon monoxide from the camper van's exhaust pipe, after forcing Devon Bostick to make eye contact with him; he comes back to life as a zombie-demon moments later, and is killed again when Devon repeatedly drives over him. His death is undone when Devon sacrifices himself in order to remove the curse from the town. (Played for comic effect.)
TV Deaths:
Edit
The Kids in the Hall: Episode 5.21 (1995) [Kevin McDonald/Various Characters]: Playing various roles, Kevin (as himself) is buried alive (along with the other cast members). The episode ends with Paul Bellini dancing on their graves and proclaiming "It's finally over!" (Played for comic effect.) (Thanks to Tommy)
Ad blocker interference detected!
Wikia is a free-to-use site that makes money from advertising. We have a modified experience for viewers using ad blockers

Wikia is not accessible if you've made further modifications. Remove the custom ad blocker rule(s) and the page will load as expected.