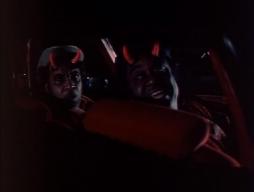 Leroy Daniels (1928 - 1993)
a.k.a. Leroy, a.k.a. Leroy 'Sloppy' Daniels
Stand-up comedian
Film Deaths:
Edit
Petey Wheatstraw (Petey Wheatstraw, The Devil's Son-in-Law) (1977) [Leroy]: Killed (off-screen), along with Ernest Mayhand, by George Mireless' thugs after Rudy Ray Moore mind-controls Leroy and Ernest into insulting George during their stand-up act. We last see them being led away from the nightclub; they appear as devil-ghosts at the end of the movie when G. Tito Shaw comes to take Rudy to Hell. (Played for comic effect.)
TV Series Deaths:
Edit
None
Ad blocker interference detected!
Wikia is a free-to-use site that makes money from advertising. We have a modified experience for viewers using ad blockers

Wikia is not accessible if you've made further modifications. Remove the custom ad blocker rule(s) and the page will load as expected.