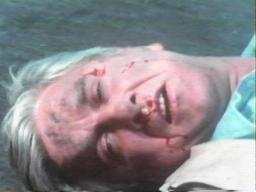 Leslie Nielsen (1926 - 2010)
Film Deaths
Edit
The Sheepman (1958) [Steven Bedford]: Shot to death by Glenn Ford during the final showdown.
Beau Geste (1966) [Lieutenant De Ruse]: Is mortally wounded in a shootout he dies talking with Guy Stockwell.
Gunfight In Abilene (1967) [Grant Evers]: Shot dead by Donnelly Rhodes after drunkenly threatening to shoot him.(Thanks to Brian)
The Poseidon Adventure (1972) [Captain Harrison] Drowned (along with the other crew members) when a giant wave crashes through and floods the ship's bridge. (Thanks to Lawrence)
Project: Kill (Total Control) (1976) [John Trevor] Fatally injured with a blow to the face at the end of a fight with Gary Lockwood; he dies shortly afterwards as Gary and Nancy Kwan kneel by his side.
Day of the Animals (Something Is Out There) (1977) [Paul Jenson] Mauled by a grizzly bear in the pouring rain.
Creepshow (1982) [Richard Vickers] Drowned (off-screen) when the zombies Ted Danson and Gaylen Ross bury him up to his neck at the beach; the story ends with a wave striking his face as the tide comes in.
Surf Ninjas (1993) [Colonel Chi] Electrocuted when his robotic arm is plunged into a pool of water at the end of a fight with Ernie Reyes Jr. (after Nicolas Cowan hacks into Leslie's armour) (Thanks to Patricio and Mathew)
Dracula: Dead and Loving It (1995) [Count Dracula] Bursts into flame (while in his bat form) after Peter MacNicol inadvertently exposes him to sunlight by opening a hatch for Leslie to escape; Leslie still manages to get in the last word at the end of the credits. (Played for comic effect, obviously.) (Thanks to PortsGuy, Neil and Gordie)
An American Carol (2008) [Grampa]: Dies after finishing telling a story to his grandchildren, we don't know he's dead until one of his grandsons goes to check on him. (Played for comic effect)
Stan Helsing (2009) [Kay] Playing a female role (in comically unconvincing drag), "she" is burned to death (off-screen), along with the rest of the townspeople, several years before the story begins; "she" appears as a ghost with the other townspeople throughout the movie. (Thanks to Matthew)
TV Deaths
Edit
Notable Connections
Edit