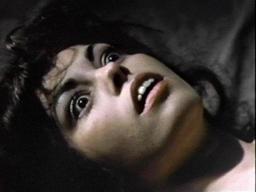 Lina Romay (1954 - 2012)
a.k.a. Candy Coster, many other pseudonyms
Not to be confused with American actress/singer Lina Romay
Film Deaths
Edit
Female Vampire (Les Avaleuses; La Comtesse noire; Erotikill; The Loves of Irina; several other alternate titles) (1973) [Countess Irina Karnstein]: Commits suicide through an occult ritual by bathing in a bathtub full of blood; she dies after Jesus Franco walks in and sees her. It's not explained exactly how this kills her, but her previous scene with Jean-Pierre Bouyxou establishes her intention to commit suicide. (Nudity alert: Full frontal and rear)
The Obscene Mirror (Al Otro lado del espejo; Inside a Dark Mirror; The Other Side of the Mirror) (1973) [Marie Madeleine Whitman]: Commits suicide by stabbing herself. She appears as a ghost in the mirror to her sister (Emma Cohen) afterwards. (Note: Lina only appeared in the more explicit French and Italian releases of this film; the tamer Spanish release had Emma being haunted by the ghost of her father (Howard Vernon) instead.) (Nudity alert: Full frontal)
Countess Perverse (La Comtesse perverse; The Perverse Countess) (1974) [Silvia Aguado]: Shot in the back with an arrow by Alice Arno as Lina is running across the beach; she dies shortly afterwards as Robert Woods kneels beside her. Robert then carries her body into the ocean to drown himself. (Nudity alert: Full frontal and rear)
Jack the Ripper (Der Dirnenmorder von London) (1976) [Marika]: Dismembered by Klaus Kinski on his operating table, after he stabs her in the woods and carries her back to his laboratory. (Nudity alert: Full frontal)
Shining Sex (La Fille au sexe brillant) (1977; adult) [Cynthia]: Slowly poisoned by the toxic aphrodisiac that the aliens had applied to her body; she eventually dies while lying on her bed and talking to Jesus Franco. (Nudity alert: Full frontal) (Thanks to Slingshot)
White Cannibal Queen (Mondo Cannibale; Barbarian Goddess; Cannibals) (1980) [Ana]: Devoured by a group of cannibals in the jungle. (Thanks to Johan)
Killer Barbys vs. Dracula (2002) [Irina von Karnstein]: Bitten on the throat and drained of blood by Enrique Sarasola.
TV Deaths
Edit
None.
Noteworthy Connections
Edit
Ad blocker interference detected!
Wikia is a free-to-use site that makes money from advertising. We have a modified experience for viewers using ad blockers

Wikia is not accessible if you've made further modifications. Remove the custom ad blocker rule(s) and the page will load as expected.