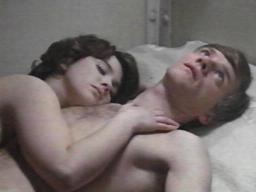 Malcolm McDowell (1943 - )
Film Deaths
Edit
The Passage (1979) [Von Berkow]: Crushed to death/buried alive in an avalanche. (Thanks to Fred)
Britannia Hospital (1982) [Mick Travis]: Decapitated (off-screen) on the operating table by Graham Crowden, who then attaches his head onto a new Frankenstein-like body. After coming back to life, he dies once again when his head comes off at the stitches during a struggle with Graham. (Nudity alert: Full frontal)
Cat People (1982) [Paul Gallier]: Shot to death (while in his leopard form) by Annette O'Toole when he attacks John Heard. His body (still in its leopard form) disintegrates when John starts to perform a necropsy on it.
Blue Thunder (1983) [Colonel F.E. Cochrane]: Killed in an explosion when Roy Scheider fires a missile at Malcolm's helicopter. (Thanks to Robert)
Sunset (1988) [Alfie Alperin]: Shot to death by James Garner. (Thanks to Fred)
Moon 44 (Intruder) (1990) [Major Lee]: Killed in an explosion when Michael Pare throws Malcolm's own bomb into the elevator. (Thanks to Robert)
Happily Ever After (1990; animated) [Lord Maliss]: Petrified/turned to stone when his spell is turned against him, in mid transformation between his human and dragon form (It's been a while since Ive seen the film as a child, and Im picking up little from reading the wikipedia; feel free to contribute to the edits.). 
Cyborg 3: The Creation (1995) [Lord Talon]: Electrocuted by Richard Lynch.
Exquisite Tenderness (The Surgeon) (1995) [Dr Stein]: Throat crushed by Sean Haberle wrapping a chain round his neck. His body is later seen when Isabel Glasser and James Remar discover him hanging from a metal pole.
Fist of the North Star (1995) [Ryuken]: Shot to death by Costas Mandylor; we only see Costas firing. Malcolm narrates the film from beyond the grave, and occasionally appears as a ghost afterwards. (Thanks to ND)
Tank Girl (1995) [Donald Kesslee]: Dehydrated when Lori Petty turns his own water-draining device against him. (He's in a cyborg body with a holographic head at this point.) (Thanks to Patrick)
Garden of Evil (The Gardener; Silent Screams) (1998) [Ben Carter]: Shot in the chest by Richard Grieco, causing Malcolm to fall arm-first into a woodchipper. (Thanks to BK)
Gangster No. 1 (2000) [Gangster 55]: Commits suicide by jumping from a rooftop. (Thanks to Dave and Graeme)
Silent Hill: Revelation (Silent Hill: Revelation 3D) (2012) [Leonard Wolf]: Dies when Adelaide Clemens extracts the whole amulet (having shot him repeatedly to no effect) causing him to spontaneously combust (while Malcolm is in his monster form).
TV Deaths
Edit
Seasons of the Heart (1994 TV) [Alfred McGuinness]: Killed in a car accident while driving drunk; his body is shown afterwards when Eric Lloyd sees him. (Thanks to ND)
Lexx: Giga Shadow (1997) [Yottskry]: Stabbed in the neck when a cleric throws a knife at him; his body is shown again afterwards when Eva Habermann and Michael McManus discover him. His body is later reanimated by "proto-blood," and he is then absorbed into the Giga Shadow's brain (which is later eaten by a lizard). (Thanks to Stephen)
Island of the Dead (2000 TV) [Rupert King]: Killed by a swarm of flies. (Thanks to Gary)
Firestarter 2: Rekindled (2002 TV) [John Rainbird]: Incinerated by Marguerite Moreau's pyrokinetic powers, after Malcolm kills Danny Nucci. (Thanks to Sarah)
Video Game Deaths
Edit
Wing Commander IV: The Price of Freedom (1996) [Admiral Geoffrey Tolwyn]: Commits suicide (off-screen) by hanging himself in his prison cell. (Thanks to Graeme)
Notable Connections
Edit
Ad blocker interference detected!
Wikia is a free-to-use site that makes money from advertising. We have a modified experience for viewers using ad blockers

Wikia is not accessible if you've made further modifications. Remove the custom ad blocker rule(s) and the page will load as expected.