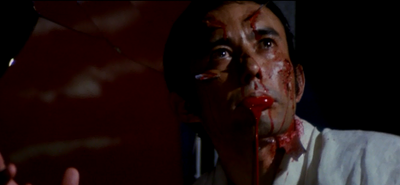 Masashi Ishibashi (1933 -)
Film Deaths
Edit
Sister Street Fighter (Onna hissatsu ken) (1974) [Kazunao Inubashiri] Dies after being beaten and slammed into a glass mirror by Sonny Chiba.
Sister Street Fighter: Hanging by a Thread  (Onna hissatsu ken: kiki ippatsu) (1974) [Inoichiro Honiden] Kicked in the throat by Etsuko Shihomi and beaten to death. His body then falls into the ocean and is seen floating face first. 
The Street Fighter (Gekitotsu! Satsujin ken) (1974) [Tateki Shikenbaru] Beaten to death by Sonny Chiba.
The Great Chase (Karei-naru tsuiseki) (1975) [Yôsuke Onozawa] Dies after a stick of dynamite that he has on him goes off blowing him up.
The Return of the Sister Street Fighter (Kaette kita onna hissatsu ken) (1975) [Hebikura] Beaten to death by Yasuaki Kurata
Karate Bullfighter (Kenka karate kyokushinken) (1976) [Nanba]: Dies in a fist fight duel with Sonny Chiba.
Sonny Chiba's Dragon Princess (Hissatsu onna kenshi) (1976) [Shiroge Oni] Sliced open with a sword by Etsuko Shihomi
Karate for Life (Karate baka ichidai) (1977) [ One Eyes Assassin] Falls off a cliff during a fight with Sonny Chiba.
Shogun's Ninja (Ninja bugeicho momochi sandayu) (1980) [Momochi Sandayu]: Speared in the chest by Sonny Chiba . 
TV Deaths
Edit