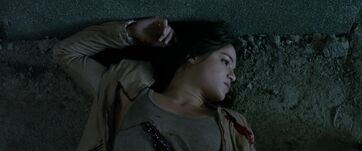 Michelle Rodriguez (1978 - )
Deaths in Film
Edit
Resident Evil (2002) [Rain Ocampo]: After being bitten by one of the zombies, she eventually dies from the virus while she and the others try to escape on a train; she immediately reanimates and is shot in the head by Eric Mabius. (Thanks to Michelle, Charlie, Gary and Germboygel)
Bloodrayne (2005) [Katarin]: Neck snapped by Kristanna Loken at the end of a fight; Kristanna then bites Michelle on the throat and drains her blood. (Thanks to Bill)
Avatar (2009) [Trudy Chacon]: Killed in an explosion when Stephen Lang fires a missile at the helicopter. (Thanks to Melissa and Tommy)
Tropico de Sangre (2010) [Minerva Mirabal]: Brutally beaten to death.
Resident Evil: Retribution (2012) [Rain Ocampo]: Playing clones of her character from the original 2002 Resident Evil, the good clone's neck is snapped when a creature knocks her into a pillar. The evil clone is devoured by zombies after Milla Jovovich shoots out the ice from under her, causing her to fall into the water with the zombies. (Thanks to Tim)
Deaths in Television
Edit
Deaths in Video Games
Edit
Halo 2 (2004) [Marine]: Providing the voice of an ally NPC, she can be killed by enemy soldiers during gameplay.