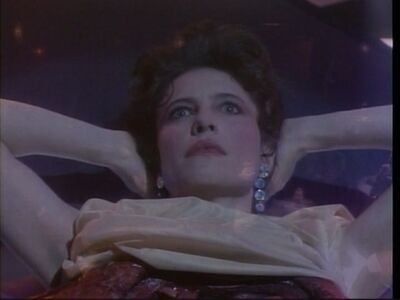 Mimi Rogers (1956 - )
Film Deaths
Edit
The Rapture (1991) [Sharon]: Dies (along with everybody else on Earth) when the Rapture comes and the world ends (she later appears as a ghost cursed to spend eternity in limbo for her contempt for god). (Thanks to Mac)
Bulletproof Heart (1994) [Fiona]: Shot in the back (off-camera) by Matt Craven (as she begs him to kill her, then continue to suffer from a crippling illness); her body is shown afterwards when Anthony LaPaglia rushes in just in time to see her fall out of her chair.
Reflections in the Dark (1994) [Regina]: Executed (off-screen) in the electric chair; the movie fades to black as she walks to the execution chamber.
Lost in Space (1998) [Dr. Maureen Robinson]: Killed in an explosion (along with Lacey Chabert, Heather Graham, Jack Johnson and Matt LeBlanc) when a meteor hits the ship as they try to leave the planet; their deaths are undone when William Hurt goes back in time and prevents the explosion. (Additionally, in the alternate-future scenes, her grave is shown and it's revealed that Gary Oldman killed her, Lacey and Heather at some point in time.) (Thanks to Mark, PortsGuy and GLC)
Penny Dreadful (2006) [Orianna Volkes]: Stabbed repeatedly in the chest and back by Liz Davies in the woods. Her body is shown afterwards when Rachel Miner regains consciousness and finds herself trapped in the car besides Mimi's body, and the murder is shown on the video-camera playback when Rachel watches it.
TV Deaths
Edit
Tales from the Crypt: Beauty Rest (1992) [Helen]: Given a lethal injection by Buck Henry; the scenes fades away as the needle draws closer. Her partly-dissected body is shown afterwards, on display on stage during a coroners' convention (there is an alternative scene that shows Buck actually stabbing her with the syringe before injecting her).
Noteworthy Connections
Edit
Mrs. Chris Chiaffa (producer)