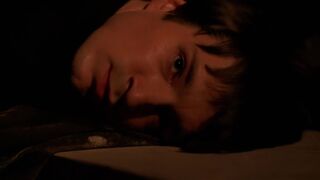 Nathan Fillion (1971 - )
Film Deaths
Edit
White Noise: The Light (2007) [Abe Dale]: Commits suicide by overdose; he is later brought back to life in the hospital and dies once again when he is shot to death (repeatedly in the stomach and chest) by the police as he's about to shoot Katee Sackhoff; he dies while talking to Katee and he appears as a ghost throughout the climax of the movie before finally moving on.
' Justice League: The Flashpoint Paradox (2013) [Hal Jordan a.k.a. Green Lantern]:Blows himself up with the Sea Monster, but later is later revived when Barry Allen a.k.a. The Flash (voiced by Justin Chambers) restored the timeline.
Guardians of the Galaxy (2014) [Monstrous Inmate]: Playing the voice of the inmate, Nathan dies (off-screen) after Lee Pace gives orders to kill everyone in the prison.
Television Deaths
Edit
Firefly: War Stories (2002) [Malcolm Reynolds]: Briefly flatlines while being tortured by Michael Fairman; he is later revived by Michael (Fillion survives the rest of the episode).
Buffy The Vampire Slayer: Chosen (2003) [Caleb]: Sliced in half vertically (from his groin to his head) with a scythe by Sarah Michelle Gellar (after being hit in the stomach with a battle axe).
Dr. Horrible's Sing Along Blog (2008) [Captain Hammer]: Squashed to death by a giant Neil Patrick Harris in Neil's fantasy. (Nathan survives the film in reality.)
Video Game Deaths
Edit
Jade Empire (2005) [Gao The Lesser]: Killed in a hand-to-hand fight by the player.