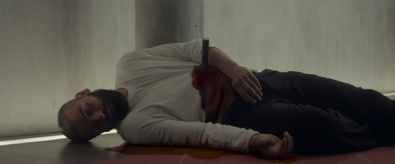 Oscar Isaac (1979 - )
a.k.a. Oscar Isaac Hernandez
Film Deaths
Edit
In Secret (Thérèse) (2013) [Laurent LeClaire]: Poisoned (along with Elizabeth Olsen) in a murder-suicide pact after Oscar spikes the alcohol they're drinking, rather then face execution by guillotine (as Jessica Lange looks on). Their bodies are later seen lying by a river when John Kavanagh, Matt Lucas and the rest of the lynch mob discover them.
Ex Machina (2015) [Nathan Bateman]: Stabbed in the chest with a knife by his robot creation (Alicia Vikander), on top of being stabbed in the back by another of his robots (Sonoya Mizuno); he dies (having destroyed Sonoya) as Alicia kneels by his side. His body is subsequently seen on the ground afterwards as Domhnall Gleeson struggles in vain to escape his locked room.
X-Men: Apocalypse (2016) [En Sabah Nur/Apocalypse]: Disintegrated by the full force of Sophie Turner's psychic powers when she rips off his armour, after Michael Fassbender impales/pins him with sharpnel and Alexandra Shipp strikes him with lightning to weaken him further. (Oscar was wearing heavy make-up for this role).
Suburbicon (2017) [Bud Cooper]: Struck in the head with a fireplace poker by Matt Damon after he wanders out into the street after Julianne Moore poisons him by putting lye in his coffee. His body is subsequently seen when Glenn Fleshler watches Matt dispose of it at a construction site.
Annihilation (2018) [Kane]: Playing both the original Kane and his mutated duplicate, the original Kane commits suicide by detonating a phosphorous grenade. His death is seen when Natalie Portman discovers a video recording of it and finds his corpse. (The duplicate Kane survives the movie)
TV Deaths
Edit
PU-239 (The Half Life of Timofey Berezin) (2007; TV Movie) [Shiv]: Shot by Nikolaj Lie Kaas for failing to pay a debt.