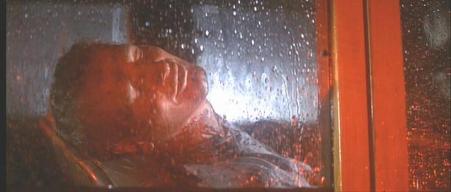 Paul Newman (1925 - 2008) 
Film Deaths
Edit
What a Way to Go! (1964) [Larry Flint]: Killed when his automatic-painting machines go haywire and attack him in his studio. (Played for comic effect)
Cool Hand Luke (1967) [Lucas 'Cool Hand Luke' Jackson]: Shot in the neck by Morgan Woodward during a stand-off in an empty church building; he dies while being transported to the hospital (off-screen, with the scene cutting away beforehand), although George Kennedy's dialogue in the next scene confirms that Paul died from his wound.
The Life and Times of Judge Roy Bean (1972) [Judge Roy Bean]: Burned to death after he chases Roddy McDowall into a burning building; we see the building collapse after they're both inside. (This is historically inaccurate, because the real Judge Roy Bean died on March 16th, 1903 from old age and drinking too much).
Harry and Son (1984) [Harry Keach]: Dies of natural causes.
Road to Perdition (2002) [John Rooney]: Machine-gunned by Tom Hanks while standing beside his car in the rain, after Tom has killed Paul's bodyguards. We only see Tom during the shooting, with Paul's body shown lying in the street afterwards.
Cars 2 (2011, animated) [Doc Hudson]: Dies (off-screen) sometime between the events of Cars and Cars 2, and although Paul's death is never explicitly mentioned, it's strongly implied in dialogue between Mater (voice of Larry the Cable Guy) and Lightning McQueen (voice of Owen Wilson). (Paul himself also died before the production of the sequel, so it's safe to say the character died with him.)
Noteworthy Relatives
Edit

Thanks to Fred, Mac, Val, Constantine, and Spiderman for information that constructed this page.