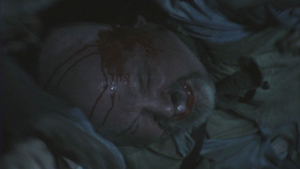 Pruitt Taylor Vince (1960 - )
Film Deaths
Edit
Fear (1990) [Shadow Man]: Falls to his death from a ferris wheel (after losing his grip on a swing/seat) at the end of a struggle with Ally Sheedy. (Thanks to ND)
Jacob's Ladder (1990) [Paul]: Killed in an explosion when his car blows up, as Tim Robbins looks on in shock. (This scene, along with the entire post-Vietnam portion of the movie, turns out to be Tim's imagination/hallucination as he's dying.)
JFK (1991) [Lee Bowers]: Dies in a a car crash off-screen. His body is shown a flashback snippet with him dead at the wheel. 
Cold Around the Heart (1997) [Johnny 'Cokebottles' Costello]: Shot in the chest during a shoot-out with David Caruso and Chris Noth (although he is still alive as David leaves, it's clear his wounds are fatal). (Thanks to ND)
Constantine (2005) [Father Hennessy]: Dies of alcohol poisoning after Gavin Rossdale magically causes him to believe that all of his bottles are empty, making him desperately attempt to drink from all of them (he dies after cutting a symbol into his hand as a clue to Keanu Reeves). (Thanks to ND)
Captivity (2007) [Ben Dexter]: Killed when Elisha Cuthbert pushes the knife deeper in (who then repeatedly stabs him), after Pruitt had previously been stabbed in the chest by his brother (Daniel Gillies), as Pruitt is strangling/choking her. (Thanks to ND, Eric, and Andrew)
In the Electric Mist (2009) [Lou Girrard]: Commits suicide (off-screen) by shooting himself in the face with a shotgun while drunk in his motel room; the body is seen when Tommy Lee Jones investigates the scene.
The Devil's Candy (2015) [Ray Smilie]: Hit in the Head several times with a Electric Guitar by Ethan Embry.
Gotti (2018) [Angelo Ruggiero] Dies of cancer off-screen.  His tombstone is simply shown. 
Television Deaths
Edit