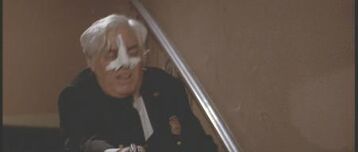 Richard Bradford
(1934 - 2016)
Film deaths
Edit
Servants of Twilight (1991) [Henry Rankin]: Killed by either one of the cultists, or one of Bruce Greenwood's private eyes.
Dr. Giggles (1992) [Officer Hank Magruder]: Killed in a struggle with Larry Drake (who he manages to shoot and wound). He dies as Keith Diamond discovers and struggles to save him.
Hoodlum (1997) [Captain Foley]: Throat slit with a switchblade by Laurence Fishburne; he manages to open fire on Lawrence before dying.
The Lost City (2005) [Don Donoso Fellove]: Has a heart attack after getting into an argument with his nephew.
TV deaths
Edit
Ad blocker interference detected!
Wikia is a free-to-use site that makes money from advertising. We have a modified experience for viewers using ad blockers

Wikia is not accessible if you've made further modifications. Remove the custom ad blocker rule(s) and the page will load as expected.