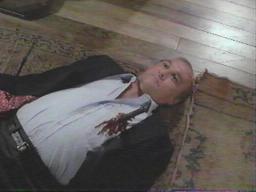 Robert Loggia (1930 - 2015)
Film Deaths
Edit
The Lost Missile (1958) [Dr. David Loring]: Killed in an explosion when he sacrifices himself to destroy the missile.
Psycho II (1983) [Dr. Bill Raymond]: Stabbed in the chest by Meg Tilly when he comes up behind her and startles her; he then falls over the staircase railing, driving the knife further in on the way down.
The Believers (1987) [Lieutenant Sean McTaggert]: Commits suicide by shooting himself in the mouth after having a voodoo curse placed on him; the scene cuts away as Robert puts the gun in his mouth, and we hear the shot as Martin Sheen walks away.
Relentless (1989) [Detective Bill Malloy]: Shot repeatedly in the chest by Judd Nelson in Robert's kitchen.
Wide Awake (1998) [Grandpa Beal]: Dies (off-screen) of a heart attack while talking to his grandson (Joseph Cross) some time before the story begins; Robert only appears in flashbacks.
TV Deaths
Edit
The High Chaparral: The Forge Of Hate (1970) [Grey Wolf]: Leader of a band of renegade apaches, they are attacking the Cannon family when Apache chief Michael Baseleon rides up. The attack ends and they parley, then Loggia's body stiffens up and he falls dead off his horse. As there was no wound he must have had a heart attack. (Thanks to Brian)
Intrigue (1988 TV) [Higbe]: Killed by an assassin, he dies Scott Glenn's arms after Scott returns to the park bench.
Connections
Edit
Ad blocker interference detected!
Wikia is a free-to-use site that makes money from advertising. We have a modified experience for viewers using ad blockers

Wikia is not accessible if you've made further modifications. Remove the custom ad blocker rule(s) and the page will load as expected.