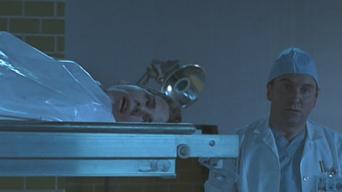 Ryan Reynolds (1976 - )
Film Deaths
Edit
The Alarmist (Life During Wartime) (1997) [Howard Ancona]: Killed (off-screen), along with his mother (Kate Capshaw), by a burglar. Their bodies are shown afterwards in the morgue.
Buried (2010) [Paul Conroy]: Suffocates after sand fills the coffin Ryan is trapped in.
R.I.P.D. (2013) [Det. Nick Walker]: Shot repeatedly by Kevin Bacon, causing him to fall off a railing. The film then follows Reynolds in the afterlife as he joins the afterlife police unit R.I.P.D.
The Voices (2014) [Jerry/Mr. Whiskers/Bosco/Deer/Bunny Monkey]: Playing both a normal human character as well as the voices of his multiple pets that he hallucinates are talking to each other, "Deer" is hit with a car by "Jerry" before eventually being mercy killed by having his throat slit by "Jerry" while Gemma Arterton watches in horror. "Jerry" dies from gas inhalation after he breaks a gas line while trying to hide from the police following his kidnapping of Jacki Weaver.
TV Deaths
Edit
Two Guys, a Girl, and a Pizza Place: Two Guys, a Girl, and a Psycho Halloween (1998) [Berg]: Impaled on the spire of Richard Ruccolo's Empire State Building Halloween costume, after Richard confuses Ryan for Ryan's murderous look-alike. (Played for comic effect.) (The deaths in this episode had no bearing on the rest of the series, and everyone was back in the following episode.)
School of Life (2005; TV Movie) [Mr. D]: Dies (off-screen) from lung cancer. It is revealed after a time jump with a closeup of a photo of him and the basketball team he coached with an "in memory' inscription.
Notable Connections
Edit