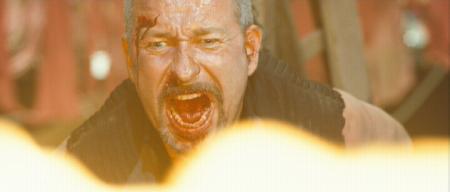 Sean Pertwee (1964 - )
Film Deaths
Edit
Event Horizon (1997) [Smith]: Killed in an explosion after the possessed Sam Neill leaves a rigged bomb on the ship (with Sean finding the device just before detonation). (Thanks to Jim, Carlos)
Soldier (1998) [Mace]: Fatally injured in an explosion; he dies shortly afterwards while talking to Kurt Russell. (Thanks to ND)
Dog Soldiers (2002) [Sergeant Harry G. Wells]: Killed in an explosion when he ignites the gas stove to destroy the werewolves, as he begins to transform into a werewolf as well. (Thanks to Rob and ND)
Equilibrium (2002) [Father]: Dies (off-screen) many years before the story begins; he only appears as a holographic image, and his true nature is revealed late in the movie. (Thanks to ND)
Wilderness (2006) [Jed]: Mauled and disemboweled by dogs after being shot multiple times by Stephen Don with a crossbow in woods.
Doomsday (2008) [Dr. Talbot]: Burned to death when Lee-Anne Liebenberg pours gasoline over him and sets him on fire, as the crowd cheers. His roasted body is then served to the crowd as a celebratory feast. (Thanks to ND)
The Seasoning House (2012) [Goran]: Presumably suffocates (off-screen) when Rosie Day press a rag into his mouth after being stuck in a tube.
Howl (2015) [Tony train driver]: Disemboweled (off-camera) by a werewolf under the rails of the train, his body is shown later in the forest when Ed Speleers and Holly Weston discover him.
TV Deaths
Edit
Clarissa (1991) [John Belford]: Presumably dies of blood loss (off-screen) after being stabbed in the left arm by Sean Bean in a swordfight.
Macbeth (1998; TV movie) [Macbeth]: Stabbed to death in a swordfight with Lorcan Cranitch.
Ancient Rome–The Rise And Fall Of An Empire: Caesar (2006; miniseries) [Julius Caesar]: Stabbed to death by the conspirators on the Senate steps.
Agatha Christie's Poirot: Dead Man's Folly (2013) [Sir George Stubbs]: With Poirot having solved the case, the police allow Pertwee's mother, Sinead Cusack, to enter his mansion and speak to him. She tells him he will do exactly as she says. We hear 2 shots, presumably he has shot her and then himself (Thanks to Brian)
Death in Paradise: A Deadly Party (2013) [Malcolm Powell]: Shot dead by Lucy Davis; his death is later shown on-screen via a flashback.
Gotham: Destiny Calling (2017) [Alfred Pennyworth]: Stabbed in the chest with a sword by David Mazouz. He is brought back to life the following episode Heavydirtysoul when David puts water from the Lazourous pit on his chest. 
Video Game Deaths
Edit
Killzone 2 (2009) [Radec]: Commits suicide by shooting himself in the head after a confrontation with Demetri Goritsas.
Noteworthy Connections
Edit