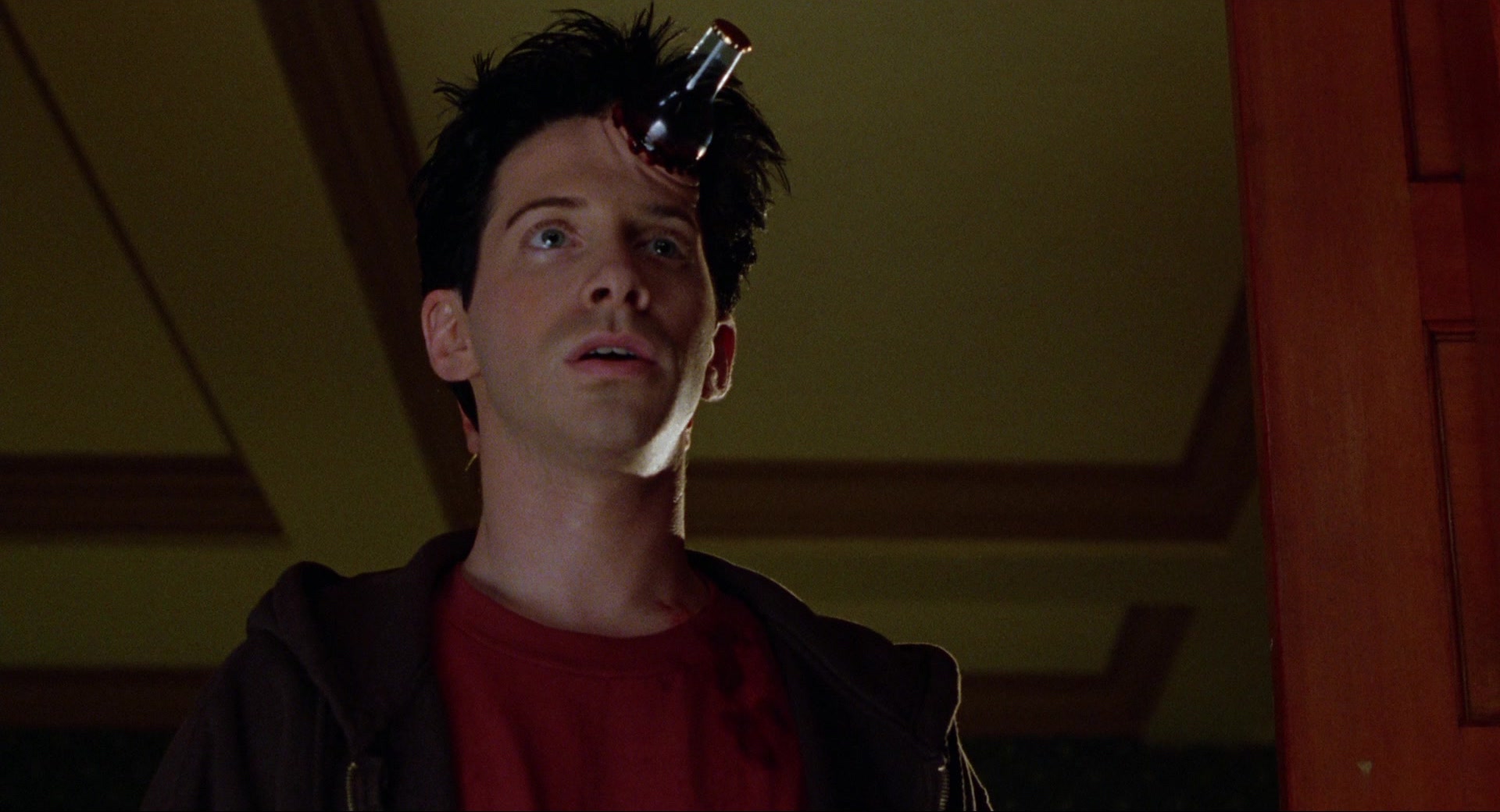 Seth Green (1974 - )
Creator of Robot Chicken
Movie Deaths
Edit
The Hotel New Hampshire

(1984)

[

'Egg' Berry

]: Killed in a plane crash, along with his mother (

Lisa Banes), while travelling to join the rest of their family. (Thanks to Gilbert)
Idle Hands (1999)

[

Mick

]: Stabbed in the head with a broken beer bottle by

Devon Sawa

's possessed hand. He later returns as a zombie (along with

Elden Henson); they eventually "die" once again when they decide to go down the tunnel of light, and later reappear as Devon's guardian angels. (Thanks to Corey and Kate)
The Attic Expeditions

(2001)

[

Douglas

]: Stabbed in the stomach by Andras Jones (after Seth is possessed by Beth Bates' spirit). (Thanks to Michelle, Keith, and Scott)
Knockaround Guys

(2001)

[

Johnny Marbles

]: Shot to death by

Dennis Hopper's thugs. (Thanks to Kate)
Krampus (2015) [Lumpy]: Playing the voice of a gingerbread man he is shot to pieces by David Koechner with a shotgun after being set on fire by an exploding lantern.
The Lego Batman Movie (2017; animated) [King Kong]: A Lego Batmobile self-destructs in his face, blowing him up. (It is unknown to whether he survived this or not, but isn't seen after this scene.)
Television Deaths
Edit
My Name is Earl: The Magic Hour (2008) [Buddy Zaks]: Dies off-screen of a terminal illness he'd had since childhood. We learn of his death when his mother (Mindy Sterling) informs Jason Lee. (Thanks to Tommy)
Mad: Life of Rhyme/Here Comes Yogi Boo Boo (2013; animated) [The Cat in the Hat/Ranger Smith/Son]; Voicing three characters, "Cat in the Hat" is eaten off-screen by Pi Patel (played for comic effect.)
Conan: Elijah Wood/Chris Hardwick (2015) [Himself - Comic-Con Expert Nemesis]: Impaled with a glowing toy lightsaber by Conan O'Brien after Seth fights both Conan and Conan's stunt double on the same stage. (Played in comedic fashion.)
Video Game Deaths
Edit
Mass Effect 3 (2012) [Flight Lieutenant Jeff "Joker" Moreau]: Depending on the player's actions prior to assaulting Earth, Seth can perish off-screen by crashlanding the Normandy as a result of the player failing to build up the large army if the player chose Destroy.
Ad blocker interference detected!
Wikia is a free-to-use site that makes money from advertising. We have a modified experience for viewers using ad blockers

Wikia is not accessible if you've made further modifications. Remove the custom ad blocker rule(s) and the page will load as expected.